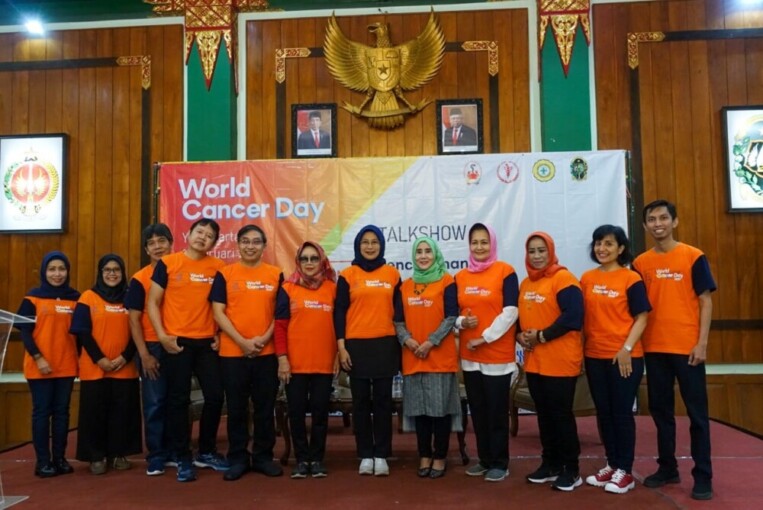 Indonesian Oncology Association (POI) DIY Branch in collaboration with the Indonesian Cancer Foundation (YKI) as well as Dr. Sardjito held a commemoration of World Cancer Day falling on Tuesday (4/2). The theme raised for this time commemoration is still the same with last year event, namely "I Am I, Will". For this implementation in Yogyakarta, POI has also received support from the Yogyakarta City Government.
To enliven this commemoration, POI held an event last Saturday (1/2) at Grha Pandawa, Yogyakarta City Hall. The event was in the form of Zumba gymnastics together and a talk show with the title "Prevention, Early Detection and Management of Multidisciplinary Cancer".
dr. Mardiah Suci Hardianti, Ph.D., Sp.PD-KHOM, as Chairperson of DIY Branch of POI, stated that this theme was still used because it had been determined to be the focus of the implementation of World Cancer Day from 2019 to 2020. This is a part of a global-scale campaign echoed by the Union for International Cancer Control (UICC).
According to Mardiah, this theme is an invitation and encouragement for us together. Cancer is still one of the causes of death with the highest scale in the world. He said that just as cancer has a different effect on each person, each person also has various powers to reduce the impact of cancer.
Mardiah said that this could be done in the form of a joint commitment to have a role and real act to reduce the burden of cancer. "The impact will be felt by individuals, families, and the community," said the lecturer of FKKMK UGM.
Reporter: Hakam
Translator: Sasa