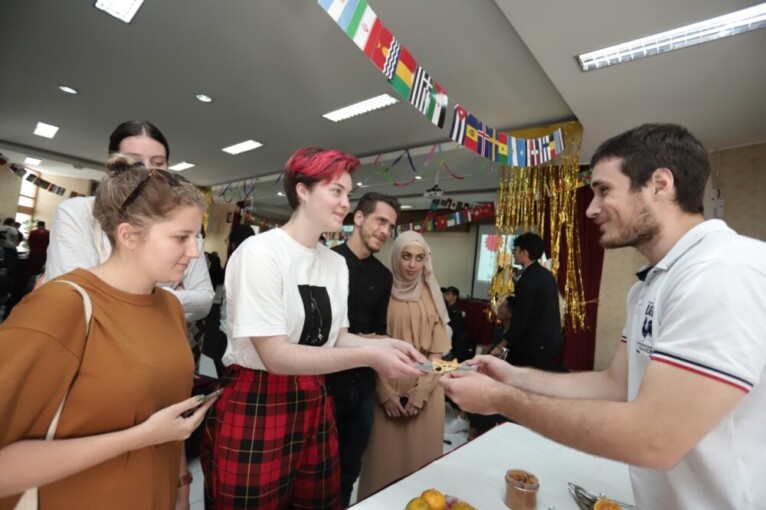 A total of 120 accepted international students to study at UGM from six countries attended an international student gathering on Friday (6/3) at the East Seminar Room of the UGM Faculty of Social and Political Sciences. The new students come from various countries such as Colombia, Cambodia, the Netherlands, France, Australia, Korea, and Germany. When they met and interacted with the seniors from international students program, culture and cuisine from various countries also introduced to them.
The Head of the Sub-Directorate for International Cooperation, I Made Andi Arsana, Ph.D., said that there was always a regular gathering for international students for 2-3 times a year. Not only intended for new international students but also brings together other international students who have previously studied at UGM. They also interact with local students in the hope that there will be adjacency between them. "We want to build closeness between students when they go home, they not only study but have family and close friends," Andi Arsana said on the sidelines of the event.
In this gathering, Andi said that the international students who had previously studied at UGM give their testimony and experience of studying and living in Indonesia. "We ask the previous international students to share their experiences so that these new students will adapt quickly," he said.
Through this joint gathering event, new students from the international program are also introduced to the rules that applied in the UGM campus environment starts from the discipline matters to the behavior in wearing clothes.
On this occasion, the new students directly met other international students from Japan, Africa, China, Korea, Africa, and the Netherlands. Lima D.C. Boon, a student of the International Undergraduate Program at the Faculty of Economics and Business, recounted his experience during two years of college that was quite impressive so that when he returned on vacation to his hometown, he felt like he wanted to back to the campus. According to him, Indonesians are very friendly and easygoing. When we are chatting, they tend to joke and throw humor. "When we meet, they often ask, 'where are you from?' Then 'what is your social media?'" he recalled.
He suggested the new students from international programs learn a lot of Indonesian youth slang. "But if you want to have it naturally, you are better to ride online-hired-motorcycle often," he said.
Author: Gusti Grehenson
Photo: Firsto
Translator: Natasa A