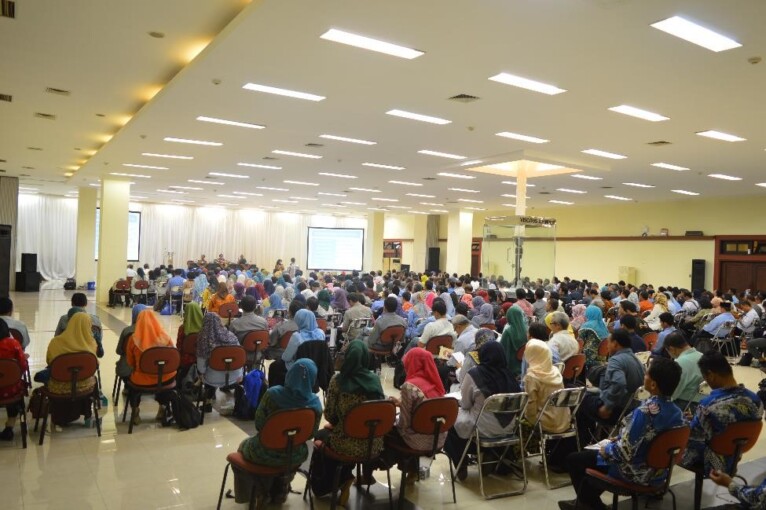 Universitas Gadjah Mada has awarded Dato' Sri Prof. Dr. Tahir, MBA. an honorary doctorate degree of medicine, public health and humanity for his attention and commitment to improve public health and humanity through philanthropy.
Prof. Dr. dr. Hardyanto Soebono, Sp.KK (K) as promoter said that the honorary title was given as a recognition for Dato' Sri Tahir's meritorious service to the field of education development across disciplines, technology and socio-cultural, humanitarian and social. The services provided are very useful for the progress, prosperity and welfare of the nation in particular to mankind in general.
"Philanthropy activities of the honorary doctorate degree recipients cover a very broad scientific field. The significance of his services in boosting the quality of medical services, public health and humanitarian encourage the Faculty of Medicine to recommend Dato 'Sri Prof. Tahir, MBA as an honorary degree awardee," Hardyanto Soebono said in his speech at the Senate Hall, Friday (22/1).
According to Hardyanto, Dato 'Sri Tahir had outstanding contributions in the field of medicine, public health and humanity, especially in the fight against diseases, such as HIV/AIDS, Tuberculosis and Malaria. These diseases are not only on the top priority list due to its risk but also because it requires a high level of financing.
His high commitment is also demonstrated in family planning programs as a factor which if not controlled will multiply the complexity of the health program. Meanwhile, to run the health programs to combat HIV/AIDS, Tuberculosis and Malaria in Indonesia, he is also supported by the Global Fund.
"Through philanthropy, Dato' Sri Tahir shows his dedication to this country by giving 75 million US dollars, the same amount of fund given by Bill Gates, world philanthropist, to the Global Fund. Besides expands the community's access to health services through hospitals, Dato' Sri Tahir also provides full medical assistance for cancer patients under 12 years old who cannot afford the medical expenses, "Hardyanto added.
In his speech, Dato' Sri Tahir stated that culture of philanthropy is not begging, but the culture of transforming ideas, to work together with sincerity of the stakeholder as well as the actors. Therefore, in the development of philanthropy in the future, the impression and the role of the giver and the receiver are expected to melt into one role of developing brilliant ideas together.
According to Tahir, in the 21st century, there is a tendency of philanthropy growth in Asia. Indonesia is part of the Asian community, it is time for Indonesia to properly manage the philanthropic activities.
For Tahir, philanthropy worth developing as a new culture, the culture of shifting resources or assets from one generation to the next generation. Therefore, this culture needs to prepare a system such as profit organization in general.
"Philanthropy is not merely implementation of the tax deductible obligations or activities that can reduce taxes, such as CSR. Therefore, we need to develop various national philanthropy forum in the near future, which we hope UGM can lead, "said the Chairman of the Mayapada Group.
This honorary doctorate degree of medicine, public health and humanity is the 23rd awards given by Universitas Gadjah Mada after a number of national leaders received a similar degree.