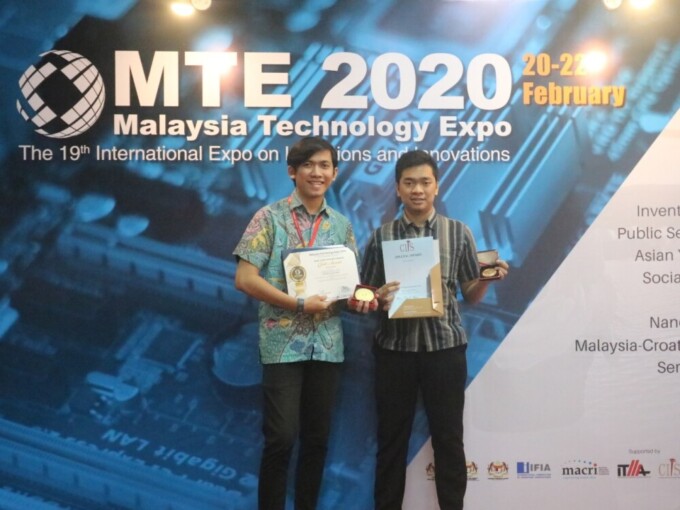 The student team of Gadjah Mada University (UGM) won three awards from the Asian Youth Innovation Awards (AYIA) – Malaysia Technology Expo 2020, which took place on February 20 to 22, 2020, at Putra World Trade Center (MTE), Malaysia.
There are many participants attended, and they also presented 413 innovations from various countries of the world, two UGM teams succeeded in winning the gold medal, silver medal, and special awards. The awards were from two different race categories. The UGM student team requested the following innovations:
MSME Promotion Application
The team consisting of Samuel T. M. Silitonga (Accounting) and Muhammad Ilham R. Karyanto (D3 in Computer Science) won the gold medal in the category of social innovation and entrepreneurial management by encouraging platform innovation to empower MSMEs in Yogyakarta under the name imart (imart.co.id). Not only won the gold medal, but the team also won a Special Award from the Chinese Innovation and Discovery Society (CIIS) of Taiwan.
"We are developing a platform to help MSMEs in Yogyakarta," Samuel said when contacted on Monday (9/3)
Samuel said that the development of the application based on the existence of past inequalities that were still high in community businesses (MSMEs) due to their minimal exposure. In fact, there are still many brokers who have distribution access so that they can easily manage prices. These conditions encourage him to create innovations that can help MSMEs.
Feature development of this application contributions, for instance, are some payments such as searches, purchases of MSME commodities, online payment systems, dashboards for MSMEs, and data analysis dashboards.
Electronic Medical Records Application
The award consists of silver awards obtained by a team comprised of Nadya Anggraini (D3 Medical Record and Health Information), Danariyanto (D3 Instrumentation Technology), Ezekiel Prayanta Linting (Information Technology), Ichlasul Amal (Information Technology), and Mukhamad Burhanudin (Electrical Engineering) from ICT category. Medical electronic recording devices (Elmers) to assist the medical recording process in hospitals.
Ichlasul Amal said that currently, medical records are still done manually using paper. The country has not developed digital-based medical records.
"We are developing elmers so that we can go to the process of copying medical records from digital paper-based easily. We do it enough with a single catch with the camera," Amal explained.
Author: Ika
Translator: Natasa A