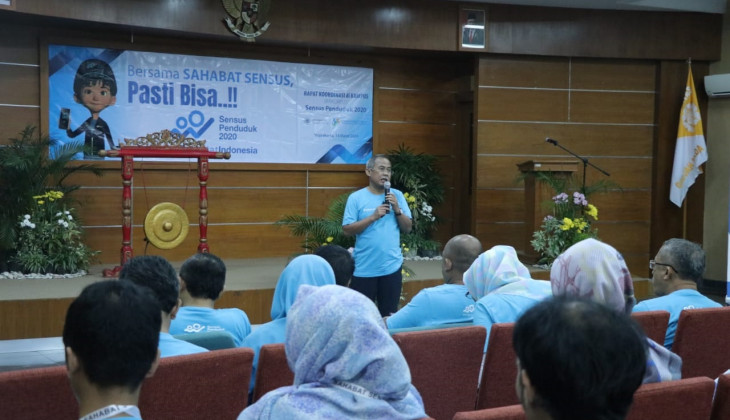 The Faculty of Mathematics and Natural Sciences UGM, in collaboration with the Central Statistics Agency (BPS) DIY, held a Central Coordination Meeting (RAKORPUS) of the 2020 Census Friends on Saturday (3/14) in the First Floor Auditorium, UGM MIPA. Both parties established in the hope of succeeding in the list of the 2020 Population Census.
Dr. Heru Margono, M.Sc., Head of BPS DIY, admitted that in the Population Census this time, he could not carry it out alone. He stated that it needed collaboration from various parties. He revealed that it is because the census this year will be online so that it was completely different from the previous census registration.
"Collaboration with UGM, especially the Faculty of Mathematics and Natural Sciences, is something that we should be grateful for. Online censuses require statistical data literacy to the public, and students here owned that ability," he explained.
Therefore, Heru said that this morning meeting determined the success of the census, especially in the DIY area. He explained that with this meeting, his party invited all academics present to become census friends. "Later, we all will play a role in inviting, guiding, and persuading people around either friends, family, or the community, to conduct this online census," he explained.
Furthermore, Heru explained that this census was also crucial for the success of the nation's development going forward. Not only based on experience and warning, but current development policies also need accurate data. "Now is the era of evidence-based policy as President Jokowi said that the data is now new wealth that exceeds oil. Therefore, let's help us record Indonesia!" he encouraged.
Dean of the Faculty of Mathematics and Natural Sciences UGM, Prof. Dr. Triyono, S.U., welcomed the invitation from the BPS. He stated that he was ready to help, support, and participate in the implementation of the 2020 Population Census. He also advised the lecturers and students involved as Census Friends to work as well as possible.
"With this involvement, the theories learned during the lecture will be useful and applied so that you will gain valuable experience. Hopefully, this collaboration will be beneficial for the development of Indonesia," he concluded.
Author: Hakam
Translator: Natasa A