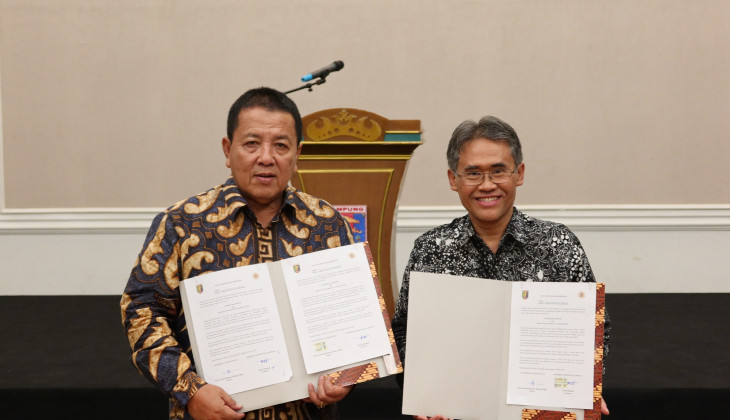 Universitas Gadjah Mada and Lampung Provincial Government agreed to establish a partnership in the fields of education, research, and community service. UGM Chancellor, Prof. Ir. Panut Mulyono, M. Eng., D. Eng., IPU, ASEAN Eng, and Lampung Governor, Arinal Djunaidi, in Mahan Agung, carried out the official signing in Lampung Governor's Office on Saturday (3/14) night.
The collaboration carried out in conjunction with a gala dinner held by the Governor of Lampung was attended by several Lampung provincial government officials, UGM leadership and the Gadjah Mada University Alumni Family (KAGAMA).
"Through development and partnership, we hope that the people's economic status in Lampung will increase," he said.
Arinal said, in the future, the Lampung Provincial Government will continue to strive to increase the pace of the regional economy by realizing Lampung as a locomotive of agricultural development in Indonesia.
"I hope this collaboration with UGM and other tertiary institutions in Lampung Province will work synergistically, I need guidance from universities," he said.
On that occasion, the governor also invited the UGM ranks to unite and work together to bring Lampung forward to form Indonesia's expectation.
"I hope that public support, especially UGM and KAGAMA will proceed with our discussion. If necessary, we will have regular meetings together with alumni of other tertiary institutions. Let's unite how Lampung can be a part of Indonesian futures," he said.
Arinal said the Lampung Provincial Government collaborated with the regency/city government continues to pledge to form the vision of the People of Lampung Berjaya that is Safe, Cultured, Advanced, Competitive, and Prosperous.
Meanwhile, UGM Chancellor, Panut Mulyono, is ready to support Lampung Province as a locomotive of agricultural development in Indonesia.
"Let's together support Lampung as an agricultural locomotive in Indonesia so that agricultural products from Lampung Province can supply national needs and even export to foreign countries," Panut said.
Panut hopes that UGM alumni can contribute to Lampung Province by having tangible programs for Lampung's progress.
"It's not just a gathering of fellow alumni, more than that, it has real programs for the progress of Lampung," he said.
Author: Agung Nugroho
Translator: Natasa A