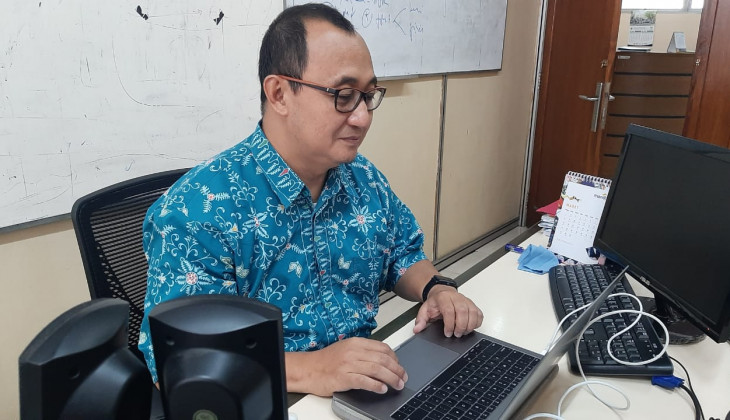 Universitas Gadjah Mada conducts online learning classes to support the preparedness and prevention policy of the spread of COVID-19 implemented on Monday (3/16) to Wednesday (3/17). There are 23 thousand students with 3,180 lecture sessions joined on the online learning class activities. According to the UGM Center for Innovation and Academic Studies (PIKA), Dr. Hatma Suryatmojo, S.Hut., M.Sc., online learning activities amid the Coronavirus pandemic outbreak, is momentum as well as a challenge for UGM in implementing e-learning.
"We have announced online lectures with learning management system model since 2017, it currently becomes a challenge for us to apply and involve both lecturers and students strongly," Hatma said at UGM Campus, Thursday (3/18).
Before there was a case of the Coronavirus, there has been a training establishment for lecturers to conduct online interaction class with the webex application provided by the university. However, lecturers are also allowed to use other online forms, such as Skype, Google Hangouts, webinars, Zoom meetings. "We provide flexibility for lecturers, but we haven't accustomed to giving them tutorial and training," he said.
Coming up to the third day of online learning, Hatma said that almost all academicians are busy using online lecture technology. However, webex as a method of direct interaction in the network and indirect interaction through learning eLisa and eLok. "During emergency conditions and limitations, we are fortunate to have prepared a learning method beforehand," he said.
Meanwhile, regarding the student preparation and enthusiasm to follow this online learning method, not many of them face obstacles because most students used to adjust themselves to using the technology. "They are generally digital native, very familiar and adaptable," he said.
Even so, one of the obstacles for their students is required to provide an internet package to access applications or learning sites offered by the campus. "They must provide sufficient internet package. On the other hand, only one provider is providing free fees access. Hopefully, other providers will kindly give free fees access as well," he said.
UGM Biology Faculty lecturer, Dr. Eko Agus Suyono, M.App, Sc., said that the online lecture learning was running quite well even though there were a few obstacles at the beginning because they had to adapt to the system and connections. "Luckily, they can overcome the obstacles because most students are already very familiar with the digital world. There may be many who are smarter than their lecturers on technology," he said.
He said that during the online lecture process, most students used cell phones rather than using laptops and PCs. "They are precisely more active in discussions than in regular classes," he said.
Eko said, to overcome the connection constraints, he deliberately used a combination of several platforms, such as the UGM webex, WA, and the simaster group. "Even if I use video, it won't take 30-40 minutes, then I give them an independent assignment for the rest," he explained.
According to him, the existence of this online learning process made UGM and several other universities more quickly enter the world of e-learning. In the emergency of the COVID-19 outbreak, he proposed that the university provide free network access to reduce the financial burden for lecturers and students. Because, if there is a free-network-access policy, it will reduce the possibility of students leaving the house or boarding house to look for wifi internet connections such as in cafes, and some even return to campus. "Even if we go to campus, we urge to keep our distance from our friends," said Eko, who gives an average of twice an online learning class every day.
Contacted separately, the Director of Information and Systems, Widyawan, ST, M.Sc., Ph.D., said that to facilitate this online learning system, he provides several facilities, such as a server to run the learning application elok.ugm.ac.id and elisa.ugm.ac.id and academic administration for simaster.ugm.ac.id.
Widyawan said regarding the platform of the learning content provider; lecturers can use the webex platform provided by the university or use an existing application. "Depending on each lecturer. Text and audio-based content require less bandwidth than video-based interaction. The e-learning system at UGM, such as elok.ugm.ac.id, can accommodate all these media," he said.
He also said that coming up to the third day of online learning activities through webex platform information, there were 3,180 online learning classes, 1,299 videos uploaded and involved 23,000 total students.
Author: Gusti Grehenson
Translator: Natasa A