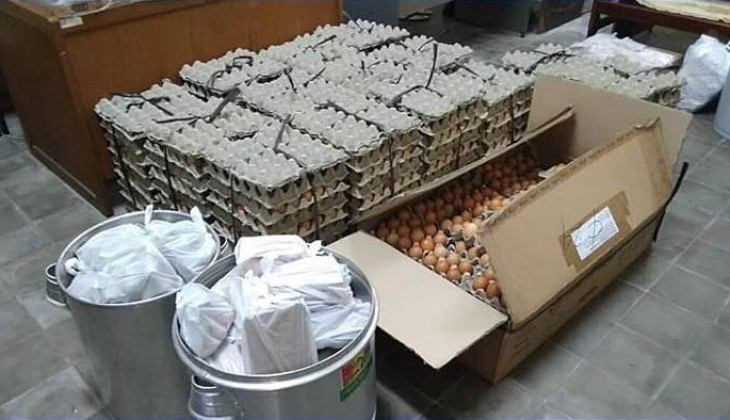 The UGM Faculty of Engineering has a collaboration with the UGM Engineering Alumni Family (Katgama) to distribute 1,600 food items or sembako to overseas students in Yogyakarta and its surroundings. At present, the distribution of groceries has reached 4,500 kilograms of eggs and groceries. "A total of 1,600 packages have been prepared for distribution. In addition to internal assistance, we also distribute assistance to communities around the campus who need it most," said the Dean of the Faculty of Engineering. Prof. Ir. Nizam, M.Sc., Ph.D., on Monday (27/4).
Nizam said that the alumni care program began with a survey that showed that many students in Yogyakarta who did not return home still chose to live in a boarding house and needed help during their study from home. "At first, UGM Faculty of Engineering helped students in need in the form of credit, but it turned out that logistical assistance was also quite large, so we did fundraising from alumni and partners," he said.
Fundraising from FT UGM alumni led by the Minister of Transportation, Budi Karya Sumadi has succeeded in raising funds amounting to Rp 2.1 billion. The plan, besides being distributed in the form of food assistance, the funds are also directed towards developing the work of FT UGM lecturers to help Covid-19 patients and preventing the spread in the community. "The funds raised are fantastic. Particularly after Mr. Budi Karya Sumardi as an alumnus of UGM Faculty of Engineering raised funds to collect more than 2.1 billion. We can donate these funds to many more people. We help them in the form of direct support, product development, and research products from fellow lecturers," he said.
The distribution of logistical assistance, said Nizam, is not only given to students but also to security guards on campus and freelancers who during this pandemic period certainly need help due to economic impacts. However, the distribution of groceries carried out to prevent a crowd. "For food, the distribution is arranged so that no crowd occurs. We divide into two places with a schedule of taking turns," he said.
In particular, Nizam appreciated the alumni who have initiated to help students in Yogyakarta and the communities around the campus affected by the Covid-19 pandemic. The concern shows the humanitarian spirit of the alumni in their alma mater. "We appreciate the care of Katgama alumni and partners; this shows the close kinship and cooperation between alumni and their alma mater. Our alumni continuously maintain UGM's noble values," he said
In addition to the alumni, Nizam also expressed his appreciation to his fellow lecturers during the pandemic who were very active in conducting applied research for Covid-19 mitigation as well as community service to help medical staff and the surrounding community. Nizam also briefly conveyed various outputs produced by lecturers in the UGM Faculty of Engineering. "Through community service funds managed by UGM Faculty of Engineering and fundraising, we can donate more outputs," he said.
He said that currently, there is a lot number of products to be distributed. There are 1,000 face shields, 1,500 masks with microfilters, 500 PPE coverall, 15 portable sinks installed in the market and public facilities, manufacturing of ultraviolet sterilization of medical devices, 1,000 liters of disinfectant, 500 liters of hand sanitizers, manufacturing of prototype ventilators, and various other health equipment.
Author: Gusti Grehenson
Translator: Natasa A