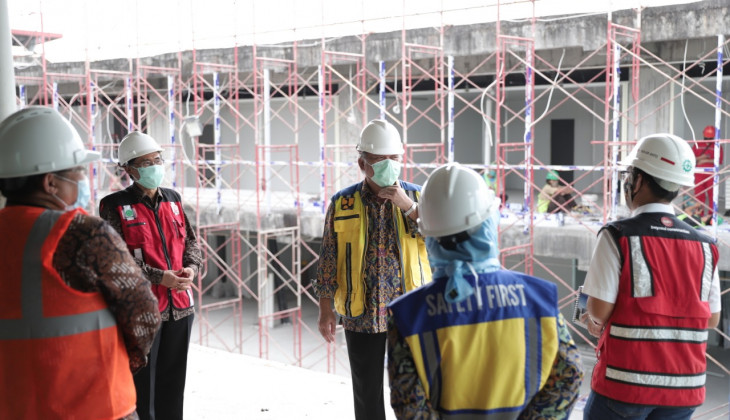 The Indonesian Minister of Public Works and Public Housing (PUPR), Basuki Hadimulyono, examined the construction of two new buildings for the handling of Covid-19 patients at UGM Academic Hospital Complex (RSA) on Wednesday (29/4). Accompanied by UGM Chancellor and Director of UGM RSA, Basuki looked directly at the construction of a 107-room building targeted for completion on May 27. "As the request of the Chancellor and the Governor of Yogyakarta Decree to make RSA as a Covid referral hospital, the two buildings will be used Covid patient handling. Three regions asked for Covid referral hospital, besides DIY, there is also Lamongan," he said.
Basuki conveyed that the Covid-19 emergency building will provide 107 rooms for ICU isolation and inpatient rooms. According to him, the construction of Covid's emergency building at UGM RSA does not require a long time because there has been the construction of buildings built since 2010. "It's been a technical test, and some structures need to be strengthened. While the panel and the medical equipment have been ready according to the recommendations of the Ministry of Health," said Basuki.
The construction of these two new buildings began on April 20, but during the nine days of work, the progress of the completion of the construction reached 28 percent. "Following the schedule on May 27, it can be utilized and started operating," he said.
The construction of an emergency building for handling Covid-19's patients, according to Basuki, is not much different from the development of the Covid-19 emergency hospital on Galang Island, Riau Islands. "On Galang Island, there are 340 beds, now 150 are filled. However, we must be prepared if there are more people enroll, if it only has a little number, thank God. Hopefully, it can be soon over," he said.
Building construction in an emergency condition does require service providers and contractors to carry out construction faster but does not reduce the quality of the buildings produced. "All according to standardization and work faster methodology. It is in accordance with the contract," he said.
UGM Rector, Prof. Ir. Panut Mulyono, M. Eng., Ph.D., said that the two new buildings used for handling patients with Covid-19 infection are former buildings in which the development delayed for ten years. "It has been delayed for ten years and has not been resolved, and we hope that this building will soon be used for the handling and handling of Covid-19," he said.
When the Covid-19 pandemic is finished, said the Chancellor, this new building will be used according to the original plan for handling infectious diseases at UGM RSA. "On behalf of UGM, I express my deepest gratitude that this building will be useful for many people," he said.
RSA Director, dr. Arief Budiyanto, PhD., Said that the construction of the two Covid emergency buildings would be completed within a month or so during the Coronavirus pandemic. However, the building is expected to be able to help Covid patients in Yogyakarta and surrounding areas. "The construction of this building took place quickly. Moreover, the RSA was appointed as a Covid referral hospital. Since March 17, there have been 1,197 patients we have examined," he said.
He mentioned that during the Coronavirus pandemic, RSA UGM had treated four positive patients from Covid-19. Three of them have been declared cured, and one patient is in the treatment period. However, due to limited isolation space, around 15 foreigners from India, and 9 of them tested positive, had to be referred to Sardjito hospital. "The capacity of the isolation room is limited," he explained.
As is known, the two new buildings that were built, namely Arjuna and Yudhistira Buildings, are in the form of reinforced concrete structures that have been established since 2010. The 7,120 square meter building will provide 107 patient rooms. The building, which consists of five floors each, will be designated as a critical isolation room, PDP treatment room, medical dressing room, restroom for health workers, and the Covid-19 polyclinic room.
Author: Gusti Grehenson
Photo: Firsto
Translator: Natasa A