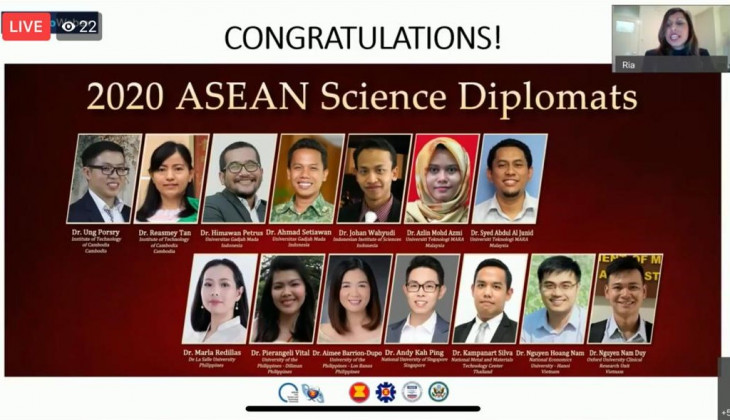 Two UGM lecturers, Dr. Ahmad Agus Setiawan and Dr. Himawan Tri Bayu Murti Petrus selected as the ASEAN Science Diplomat 2020. ASEAN Science Diplomat is a network of young ASEAN scientists who have the responsibility of supporting the development of science in the Southeast Asian region.
"ASEAN Science Diplomats are expected to be able to speak as ambassadors for the development of science in their respective countries," said Ahmad Agus Setiawan on Monday (15/6).
Science and technology, he explained, has an essential role in determining the future of regional development. However, in some countries, the fields of science are often ruled out because more attention is given to the social and political areas.
He revealed every country needs a figure of scientists who act as role models for the younger generation, such as Habibie, who is considered the father of technology in Indonesia. Therefore, the selection of ASEAN Science Diplomats under 45 years old is one step to look for potential scientists at the ASEAN level.
"This network also proposes as a forum to foster close understanding among scholars in ASEAN countries. In Southeast Asia, there are a lot of reliable scientists. It only needs a place to build a more fluid and flexible discussion," Ahmad said.
The lecturer at the UGM Department of Nuclear Engineering & Physics Engineering is known as a researcher in renewable energy engineering. Previously he had also received several awards, including the ASEAN Science and Technology Fellowship Priority Area Sustainable Energy and the 2012 Energy Globe Award and the 2013 Energy Globe Ambassador from the Energy Globe Foundation, Austria.
Another UGM lecturer chosen as the ASEAN Science Diplomat is Himawan Petrus, a Chemical Engineering lecturer who had previously received the ASEAN-US Fellow for Science and Technology.
ASEAN Science Diplomats were selected through a selection process by a panel of judges. This year, 365 researchers participated in the selection and 14 researchers who were later chosen as Outstanding Diplomats. Announcement of selected diplomats will be conducted on Saturday (6/13) online.
These fourteen scientists will take part in the ASEAN Science Diplomat Assembly held every year as a venue to facilitate discussions between scientists and policymakers regarding their programs and research priorities. The meeting was scheduled to be held in June this year. However, it was eventually postponed due to the Covid-19 pandemic.
Ria Persad, the head of the assessment team, said that this year's diplomat candidates had a strong research background and various achievements. The assessment process, she explained, focused on three main criteria: the potential to link their expertise with policymakers, a vision for collaboration with researchers in ASEAN countries, and communication and diplomacy skills.
"We are delighted with the representation of the candidates. This appearance shows that ASEAN scientists are actually as superior as scientists from other parts of the world, even more superior," she said.
Author: Gloria
Translator: Natasa A