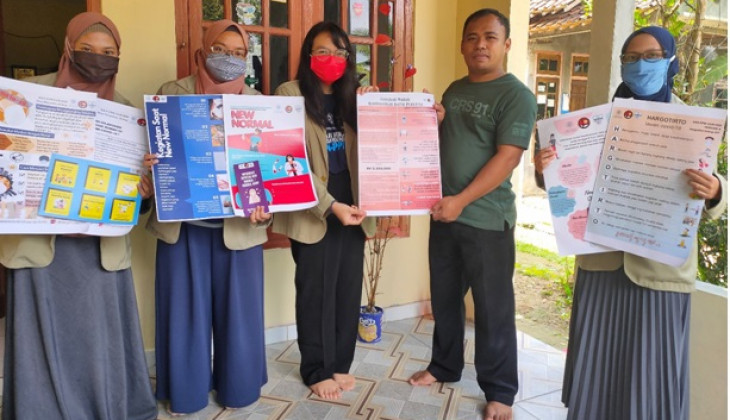 It has almost been the last week of UGM Community Service Program in Period 6th, Hargotirto Unit Community Service students under the guidance of Dwi Umi Siswanti, S.Sc., M.Sc (Faculty of Biology) submitted the results of the KKN program to Hargotirto Village. Eight students are consisting of Atika (Faculty of Philosophy), Stefani (Faculty of Cultural Sciences), Vindy (Vocational School), Satrio (Faculty of Engineering), Dinda (Faculty of Cultural Sciences), Rini (Faculty of Philosophy), and Laras (FKKMK) submitted the implementation results of the Community Service Program and the aid package resulting from supporting funds to the Nganti and Teganing III Hamlet, Hargotirto, Kulon Progo on Tuesday (16/6).
During the visit, KKN students organized a campaign about Covid-19 such as the method for washing hands and wearing proper masks including education of the New Normal Period. There are some actions provided within the event one of them is by providing poster exhibitions and presentation of material from the students of the Community Service Program. This effort aims to increase awareness and awareness of citizens of COVID-19. This socialization event was attended by around 30 residents and implemented by applying the COVID-19 protocol.
On this occasion, the students submitted the results of the teamwork program in the form of posters and short videos. Posters made by students of the Hargotirto Unit include infographic posters, hoax news posters related to COVID-19. Students take benefit from this moment to actively have a role as an agent that provides trusted and accurate information for citizens related to COVID-19. Videos of student work include videos on how to make disinfectant liquids and video tutorials to make cloth masks, infographic posters and videos have also been distributed online through the WhatsApp group of Hargotirto villagers and uploaded to the COVID-19 response website of Hargotirto Village (https: // hargotirto.kkn-ppmugm.com /) made by KKN students as a center for information about COVID-19. This website provides independent screening facilities, maps of the spread of ODP, PDP, and positive patients in DIY Province so that it will be more accessible for the residents.
Besides, KKN PPM UGM Unit YO 0239 students gave positive activities to ease boredom during the stay at home during the COVID-19 pandemic such as children's story podcasts, video invitations to exercise, online shop counseling, education of rainwater as clean water and water ready to drink, as well as a writing competition for residents of Hargotirto. The students from Hargotirto Unit also hold various types of online classes including Korean, English, mathematics, and physics classes for school students.
Students have done some supports since the beginning of Community Program Service. They have conducted some actions such as the distribution of posters and the procurement of online game competitions. From this action, there were 5 million rupiahs collected as funds, more than 5 million rupiahs collected within 3 weeks. The collected funds utilized to provide supports/aids in the form of 57 food packages and health equipment (hand sanitizer, thermogun, and masks). The residents of Hargotirto Village are the intended beneficiaries of these aids which had been laid off for more than three months due to the COVID-19 pandemic.
Responding to this kind of support, Sukamto, the organizer of the Pule Payung tourist attraction that has been closed since the pandemic, accompanied by the Head of the Hamlet of Nganti, Aan, expressed his appreciation.
"Thank you very much for your concern to us, once again, thanks for the team of UGM Community Service Program, because of you we can survive in difficult times due to this COVID-19," said Sukamto.
Author: Satria
Photo: Hargotirto Community Service
Translator: Natasa A