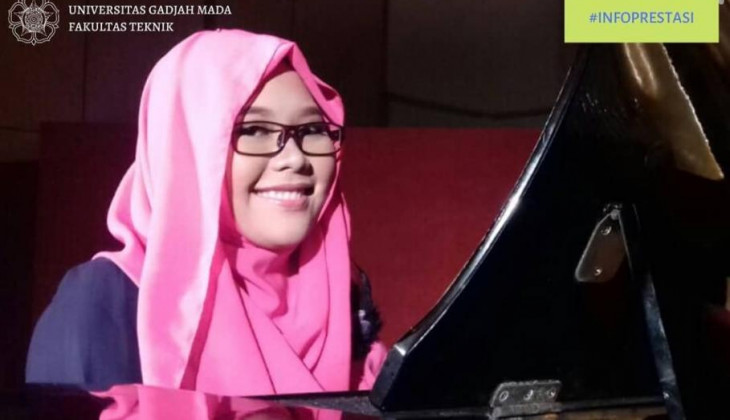 UGM student remains to result in achievements. Not only from the academic field, but there are also many non-academic achievements, including in the field of arts.
Almira Salsabila Gita Indraswari as Geological Engineering student recently obtained an achievement in the field of art. She won 2nd place at the international level in the 11th Indonesian Radio Student Association (PPI) anniversary karaoke competition.

It was an online competition that was attended by Indonesian students spread to all countries over the world.

Almira said the live karaoke competition had two selection stages. First is semi-finals and second is the finals itself at different times. In the semi-final round, the jury asked the participants to send voice recordings.
"In semi-final stage, I sang Uninvited by Alanis Morissette then I sent my voice recording the jury," she explained on Wednesday (6/24).

Moreover, the final event took place on May 9, 2020, online by Radio PPI world. She revealed that during the grand final, she technically prepared herself to adjust the conditions. Some of the were adjusting the time distinction, weather, and signals factors. In the final stage, all participants were in different countries. There were from Indonesia, Poznan Poland, Cairo, Egypt, and Nanjing China, as well as the presenters who were in Japan.

"In the final, I sang a song entitled Away from You. In fact, that is my own creation," said the woman who obtained a series of achievements in creating songs at the regional to national level.

These achievements included eight Best 2016 Infrastructure Songwriting Competition of the Ministry of Public Works and Public Housing 2016, Hope Champion in the 2016 National Paud Song Writing Competition in the Ministry of Education and Culture, Favorite Champion in the 2018 National Varash Song Writing Competition, and Indonesian representatives in South East Asia Music Education Exchange (SEAMEX) 2019.

Music Arranger at the Gadjah Mada Chamber Orchestra (GMCO) Grand Concert said she was happy and grateful for the achievements she had won.

"I am very grateful for having the opportunity to make the name of UGM proud," she concluded.

Author: Ika
Translator: Natasa A