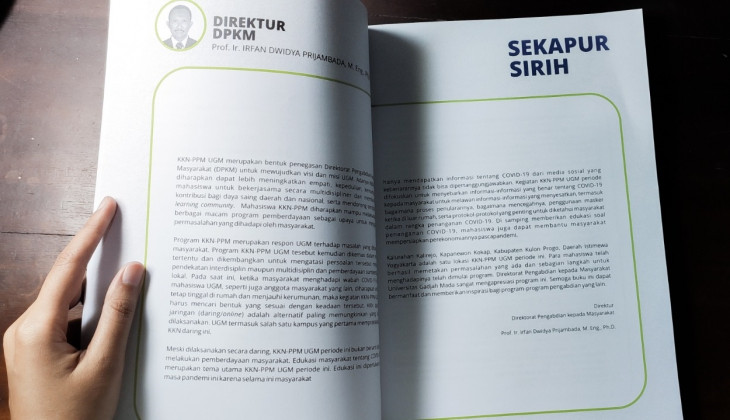 UGM KKN-PPM Kalirejo Unit, Kokap, Kulonprogo, launched a book of experiences regarding online community service. The Kalirejo Team is one of the tens of teams that UGM has deployed in this period. The Community Service Team carries the theme Community Empowerment Based on Community Health and Environmental Health during the Pandemic Response Period COVID-19.
Kalirejo Unit Field Guidance Lecturer (DPL), Galuh Andi Insani, S.Pt., M.Sc., said that based on the theme, the team had carried out various work programs including the preparation of a book titled KKN DARING: Bukti Bakti Gadjah Mada Tak Terkekang Pandemi.
"The implementation of KKN with this online system is not easy. It takes several years of learning outcomes for community implementation," Galuh said on Wednesday (1/7).
Not only providing an overview, but he also believes that this book might improve the community's perspective. It is open for them who genuinely want to serve the community.
According to Galuh, this current Community Service can, at the same time, emphasize the position of students who must run the Tridarma of Higher Education as strengthening their identity. People could access the book in http://ugm.id/Kknkokap2020. He hopes, it can provide a clear path for friends who want to serve, but limited to a pandemic.
"Hopefully, this book will be one of the historical witnesses of UGM's dedication to the community, who is still able to serve in any condition. The writing in the book certainly still has many shortcomings. Hopefully, our successors can correct these deficiencies by improving the evaluation results of this work," Galuh said.
Author: Satria
Translator: Natasa A