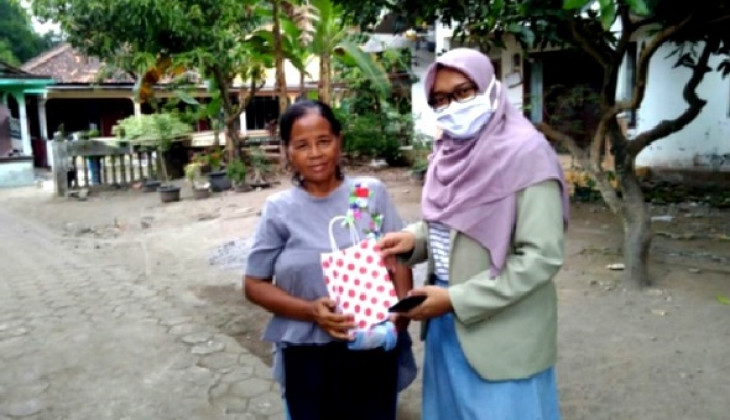 Ten cross-study program students from the Faculty of Medicine, Public Health, and Nursing of Universitas Gadjah Mada (FK-KMK UGM) conducted the Community Family Health Care (CFHC) program for residents of Karangbajang Hamlet, Tlogoadi Village, Mlati District, Sleman. As is known, Tlogoadi Village in Mlati Subdistrict, Sleman, was once a Covid-19 red zone area as of June 2020 with one citizen detected positive for Covid-19 and had recovered when this activity carried out.
Angelika Rizki Natasya, as a member of the CFHC team, said that she had educated and provided community assistance in preparing themselves and their families for the adaptation of new or new normal habits. For two weeks from June 14 to June 28, 2020, students from the 2017 class in groups carried out educational activities as well as community service. "We provide educational material including an explanation of the new normal in DIY as well as what must be done by partner families in dealing with the new normal according to their respective jobs," Angelika Rizki said in a statement to reporters on Wednesday (7/15).
There are two groups of students. There are 59 groups and 60 CFHC. Each consists of five students with supervisor lecturer Ika Ratna Palupi, M.Sc, providing education to 11 partner families as educational targets based on the recommendations of Ari Purwandari, SKM as the Health Promotion Service officer at Mlati II Health Center.
According to Angelika, education was also managed by students in their respective homes inside and outside DIY. They conducted this online learning process through the WhatsApp group application. The delivery time is 19:30 - 21:00 West Indonesia Time at night when most families do not have a busy schedule at work. The principle of adapting to new habits emphasized is wearing a mask, maintaining physical distance, washing hands, getting enough rest and not panicking. "Partner families respond actively," she said.
The supervisor, Ika Ratna Palupi, M.Sc, said that this activity encourages family preparation to adapt to new habits. About more than 80 per cent of participants understood the educational material and got solutions to their questions. Before ending the activity, Palupi said, students also distributed new normal kits to each partner's family which contained masks, soap, hand sanitizers, honey bottles, antiseptic wet wipes, vitamin C along with instructions for use, hand washing posters and campaign stickers against Covid- 19
Author: Gusti Grehenson
Translator: Natasa A