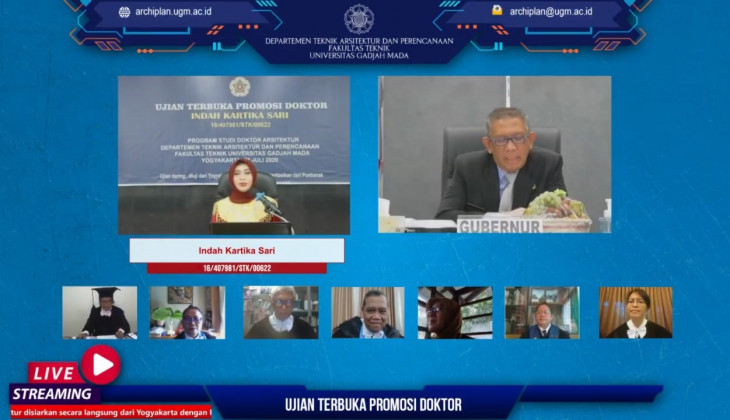 Architectural DNA can be employed to trace identity in architectural replication. In fact, for traditional architecture, the identity data from the findings of this architectural DNA can reveal the splendid cultural heritage of Indonesia on a worldwide scale.
"In the sample of traditional Malay houses. This discovery is one step in finding the identity of Malay houses that can be a guideline and database reference in the development of present architectural houses and the future," said Indah Kartika Sari in the Doctoral Open Examination at the Faculty of Engineering online on Monday (7/27).
In the exam, Indah defended her dissertation that raised a title of Architecture DNA: Malay Traditional House in West Kalimantan.
Indah explained that other traditional architectural samples could use architectural DNA approach by conducting the syntactic process of space, the process of translation and the process of transcription to find DNA that contains the source code. As in biology, one of the purposes of modern phenomics is the integration of data into a structured database that can be searched based on the FAIR principle (findable, available, identifiable, reusable) (discoverable, available, identifiable, reusable) to facilitate and find data.
"The findings of architectural DNA theory with the discovery process through biological systems can have a major influence on storing architectural identity data handed down from generation to generation," she explained.
To sum up, of her research results, it intended that architectural DNA is a framework that contains instructions related to hierarchical rules, sequences and codes that become a reference in architectural replication through the process of genotype transmission and transformation of phenotypes.
Genes as DNA expression function. It might propose to convey genetic information from generation to generation. In architecture, genes are genetic information that is always having replication, tangible, and each gene has a different function. People can discover genes from the components of genotype. The genotype is an abstract relational model that regulates the arrangement of space, and the principle of organizing space. The genotype is fixed and stable. Genotypes are included in archetypes or replicated archetypes. Then the phenotype is the real realization of the genotype in the physical environment.
Environmental influences and genotypes cause varied phenotypes. Genotype and environment have a very substantial effect on Phenotype variation. Therefore, from the results of the exam, Indah was announced as cumlaude. There are also some of the honours attendances in the online exam. They are H. Sutarmidji, S.H., M.Hum (West Kalimantan Governor), Yori Antar (Senior Architect) and Prof. Dr. Chairil Effendy, M.S (Chair of the West Kalimantan Malay Council).

Author: Satria
Translator: Natasa A