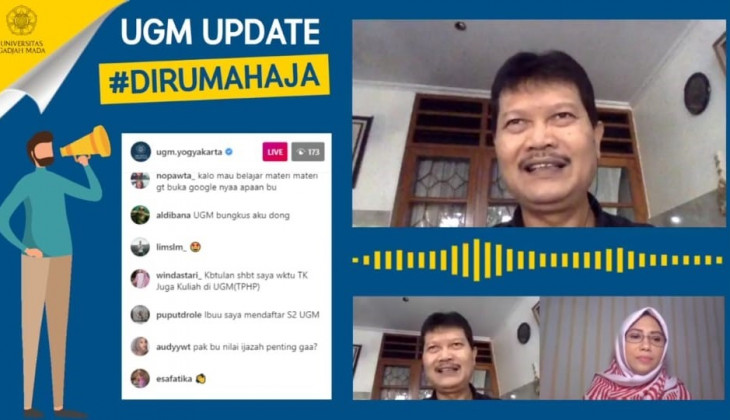 Attaining the informative campus title in 2019, Universitas Gadjah Mada proceeds to improve the quality of information services for the community, including involving students with disabilities in accomplishing information at UGM.
"Alhamdulillah, we achieved the highest category. We got a title of the most informative campus according to the assessment of the Central Information Commission. Students with disabilities can also get access so that we also strive to serve their the information needs," said Dr. Gugup Kismono, MBA., Ph.D, PPID Utama UGM on Thursday (30 / 7) at the UGM Update on Public Information Openness.
In attaining this title, UGM has passed through a long journey. The long journey is related to transparent, accountable information management at UGM and involves community participation.
During the long journey, Gugup explained that UGM had long provided the Law on Public Information Openness. Besides, UGM for many years has formed an Information and Documentation Management Officer (PPID).
"So, if you see the process, we have been ranked 2nd, ranked 5th, ranked 6th, to become informative. Finally, only later we have accomplished our purpose to become an informative campus," Gugup explained.
UGM also undertakes various other efforts as an informative campus are learning from the Ministry of Finance as an established institution for public information services. UGM also often holds consultations with the Central Information Commission.
Gugup said, as the times goes by, UGM keeps improving in its understanding and providing regular information products for the public. While day by day, UGM also serves more broad segments.
"We also ask for input from the public. We continue to make various innovations, so we can continue to serve the community. This year we are indeed informative, but who knows what we will become next year if there is a decline in the quality of information," Gugup said.
Gugup acknowledged information related to education and teaching most sought after by the public so far. Following later information about student affairs, especially related to scholarships.
"There is two domination, especially at the time of new student registration. The public often confused because there are also many websites using UGM's name," he said.
Gugup said that everyone has the right to acquire information about UGM, except for private information and the type of information that is still in process because we still need to review some information before being published.
As what UGM finance division said, it has a very long process. Financial reports must go through a BPK audit or external audit process and input from internal audits.
"After the new audit is published, and we regularly report the finances on the website. So, if there is information that we have not yet comprehended, it will take time, but if we can understand the information as far as we can, we will provide it quickly," Finance division explained.
Regarding the speed of this information service, UGM considered relatively having fast response. Meanwhile, UGM also provides and opens many canals to make it easier for the public to get information.
According to the standard in the FOI Law, information service duration is in 2 weeks or ten working days. There will be an extended time if there has no expected information obtained.
"Statistics data intended that so far, UGM recorded 7.5 days as the longest days in providing information services. But in general, we can serve in just one day. However, the average our public service information is 1.75 days. Still, it is also because there are many internal ones, not only students but also possibly lecturers because we have an access channel," he added.
Author: Agung Nugroho
Translator: Natasa A