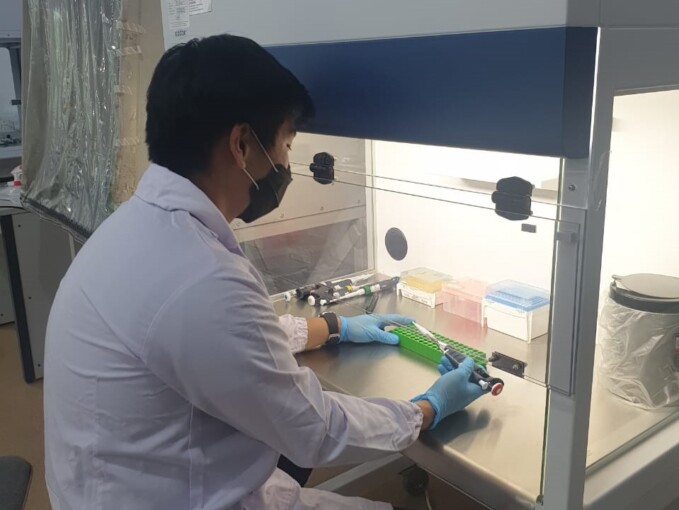 UGM Faculty of Medicine, Public Health, and Nursing continues efforts to handle the Covid-19 Pandemic in Indonesia through several research and innovation activities. One of the discoveries for the success of research and innovation achieved in August 2020 was the UGM FKKMK Genetic Working Group advising 4 SARS-Cov-2 genome sequencing with high-grade coverage quality from 4 COVID-19 patients.
"The concern is not only for research but also for the development of global vaccines or especially red and white vaccines because one of the significant factors in vaccine production is the type of mutation or clade," said the Head of the Genetics Working Group (Pokja), dr. Gunadi, SpBA., PhD., on Thursday (27/8).
Of the 4 SARS-Cov-2 genome sequences, 3 data were successfully published in the global database of 'GISAID' coronavirus genome sequencing on Tuesday (24/08). The 3 SARS-Cov-2 isolates were named hCoV-19 / Indonesia / YO-202449/2020, hCoV19 / Indonesia / YO-200927/2020, and hCoV-19 / Indonesia / YO-781481/2020.
Gunadi further said that the publication of genome sequencing at GISAID has probably been important information for scientists worldwide to understand the coronavirus, including its mutations, and support vaccine development efforts.
"From these results, we can contribute to the development of a vaccine or coronavirus therapy in the future," he said.
Based on this achievement, Universitas Gadjah Mada joined teams with LBM Eijkman, Airlangga University, and West Java, which had earlier published its genome sequencing on GISAID. GISAID is an international data bank with collaborative data from scientists around the world and provides genetic/genomic, clinical, and epidemiological data related to flu viruses, including SARS-Cov-2.
Genetic Working Group of UGM FKKMK in the process of identifying the sequencing of the SARS-Cov-2 genome have partnership with the Wates Veterinary Center, Kulon Progo, DIY, the Indonesian Ministry of Agriculture, the UGM FKKMK COVID-19 Diagnostic Laboratory (Department of Microbiology and Diagnostic Laboratory of the Tahija World Mosquito Program Foundation / WMP Yogyakarta Center for Tropical Medicine), Integrated Research Laboratory FKKMK UGM, Department of Computer Science and Electronics, FMIPA UGM and COVID-19 referral hospital.
Besides Gunadi, there are also some researchers involved namely drh. Hendra Wibawa, PhD. dr. Marcellus, dr. Mohamad S. Hakim, PhD, dr. Edwin W. Daniwijaya, PhD, dr. Ludhang P. Rizki, MSc, SpMK, Endah Supriyati, MSc, dr. Eggi Arguni, SpAK, PhD, dr. Titik Nuryastuti, PhD, SpMK (K), Prof. dr. Tri Wibawa, PhD, SpMK (K), dr. Dwi AA Nugrahaningsih, MSc, PhD, Afiahayati, PhD, dr. Siswanto, SpP, dr. Beby Dewi Sartika, SpPD, dr. Ardorisye Saptaty Fornia, SpP, dr. Alvin S. Kalim, dr. Desyifa Mursalin, dr. Dyah Ayu Puspitarani, dr. Kemala Athollah, and dr. Dwiki Afandy.
Gunadi revealed that the samples published on GISAID came from the first batch research. Currently, the team is preparing the SARS-Cov-2 genome running sequencing for the next batch.
"By taking lessons from our experience in the first batch, hopefully, the next batch will be successful in identifying the SARS-Cov-2 genome sequencing is more notable," he concluded.
Author: Gloria
Translator: Natasa A