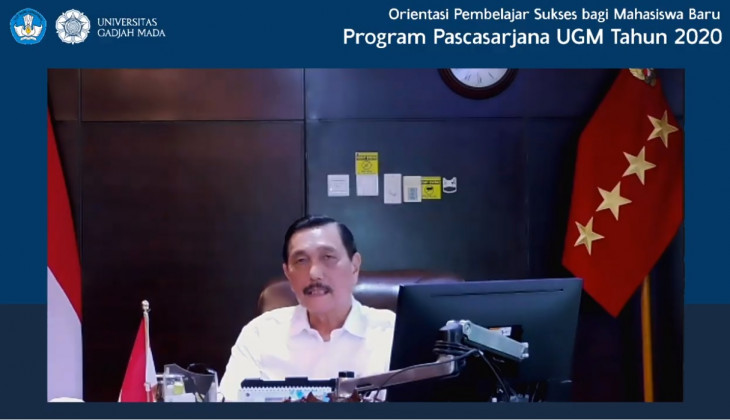 Luhut Binsar Pandjaitan, as the Coordinating Minister for Maritime Affairs and Investment, urged UGM students to maintain integrity because, without integrity, someone will be valueless.
"How great you are, how intelligent you are, those all are nothing without integrity!" he said as he was delivering his oration on the Successful Learner Orientation for UGM Postgraduate New Students online on Wednesday (23/9).
Luhut conveyed the importance of building a solid culture of integrity to build Indonesia into a developed country. However, we will not realize this without cohesiveness.
"UGM students should color leadership, simplicity by providing exemplary examples," he said.
He added that it was a note for UGM students always to think holistically and not be segmented. If someone thinks holistically, hopefully, they can organize numerous things to solve all existing problems properly.
"You must always think holistically, don't be segmented because if you have a segmented way of thinking, it will be shallow and will not solve the problem," he explained.
Strategy to Handle Covid-19
In that event, Luhut also conveyed three action plans in handling Covid-19. The first one is the enforcement of health protocols. People are required to comply with 3M, namely wearing masks, maintaining distance, and washing hands. Then, carry out operation justice to ensure that disciplined communities carry out health protocols and ensure that business actors, both large and small, apply health protocols.
Second, centralized quarantine. This step is implemented by providing centralized quarantine facilities for patients without symptoms and mild, requiring each city with many positive cases to provide centralized isolation facilities, and providing centralized quarantine facilities not far from referral hospitals. Lastly, implementing Covid-19 care management by using standard protocols for patient handling therapy ensures that each hospital has adequate facilities to carry out health protocols and improve food nutrition and lodging facilities for health workers.
"If the three strategies are well implemented, I am sure that Covid-19 in Indonesia will be under control. These strategies are important because the critical time is in the next three months until we get the vaccine in December 2020," he explained.
Meanwhile, UGM Chancellor, Prof. Ir. Panut Mulyono, M.Eng., D.Eng., IPU, ASEAN Eng., in his remarks conveyed that the Covid-19 pandemic caused various impacts on socio-economic conditions. This condition makes the series of odd semester new student admissions for the academic year 2020/2021 UGM conducted online.
The Chancellor advised the students not only to strive for personal dreams. However, they are urged to learn to become leaders in their respective fields to contribute to Indonesia's future, which is more advanced and noble.
"Striving by upholding the UGM values, holding on to the cultural hearts of the nation, for the progress and welfare of Indonesia and contributing to the world community. This implementation is in accordance with the slogan of UGM is locally rooted, globally respected," he said.
Author: Ika
Translator: Natasa A