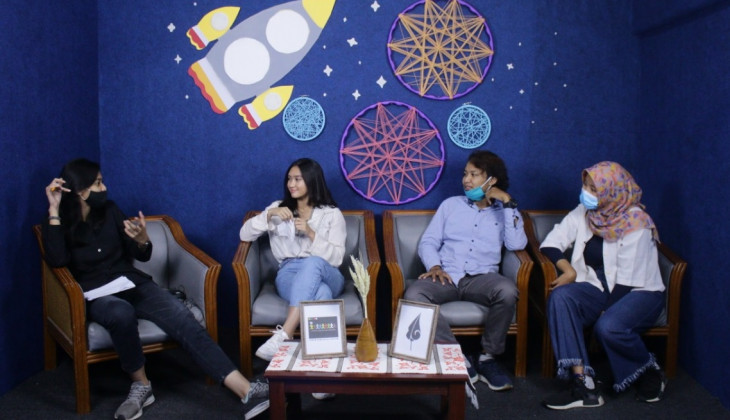 UGM for the umpteenth time held an annual event of the Gelanggang Expo. This year, Gelex was held online and broadcasted through the Gelanggang Expo Youtube channel and other creative content via the Instagram account @gelexugm from 21 September to 11 October 2020.
Bhram Kusuma as a Coordinator of Gelex UGM 2020, said that this year's event would be unusual from previous years for two reasons. First is because of the Pandemic condition of the Covid-19 and the renovation of the UGM arena. "Therefore, the whole series of events presented online this year," he explained on Tuesday (29/9).
As for the event arrangement itself, Bhram explained that later each UKM and the UGM community would introduce their profile in casual chats broadcast live via the Youtube channel. For a few days start from 21 to 30 September, 5, and 6 October, there will be an introduction from UKM profiles.
Besides, there were also casual chats with outstanding students, arena activists, and populist national figures who were also activists of each UKM. This casual talk was held on 27 September and held again on 4 and 11 October.
This year's Gelex also uses video media packaged in an interesting and informative manner to attract new students to join the student activity unit. The video introduction to UKM contains actions of various UKM at UGM, Gelexpedia, which contains information about the arena and four joint secretariats and other interesting videos.
"These contents are an innovation that we are currently doing. By increasing the number of Gelex appearances visually, hopefully, UGM students, especially new students, will be more interested in registering themselves for UKM. This committee effort is considered as new in interesting ways because of the pandemic's pressure. The previous activities that were held face-to-face have now shifted into audiovisual such as presenting SMEs through videos, live streaming on YouTube, infographics, etc. The committee tried to follow the trend through good visuals and did not diminish the essence of the message," explained this student of MKP UGM '18.
Meanwhile, Gabriel Owin Pamungkas Putra, as the Chair of Gelex UGM 2020, said that Gelex must still be completed even though in the middle of the pandemic because Gelex is closely related to the regeneration of a UKM at UGM.
"UKM is not only a place for a hobby but also as a family. Therefore, through Gelex, I hope that UGM first-year students will find new families in this town," said the UGM student of Public Policy Management 2018
Also, Owen said that the implementation of Gelex was also an effort to keep student activism alive, even in tough situations and conditions. He also hoped that new students could achieve it by entering UKM. UKM activities are the best choice for students to develop themselves.
"Hopefully, the first-year students will confidentially register UKM activities. This condition is because UKM is a place to learn together, not to look for the best. Also, it is a place for anyone who has high intentions and fighting power to hone themselves," he added.
Regarding the UGM Hall's renovation, Owin hopes that it will run smoothly and will complete soon. He hopes that UKM can have a place to gather like the old place. "UKM also needs a place to implement activities during the transition period for the renovation of the arena. I hope UGM can provide a platform for UKM to practice their activities," he concluded.
Author: Hakam
Translator: Natasa A