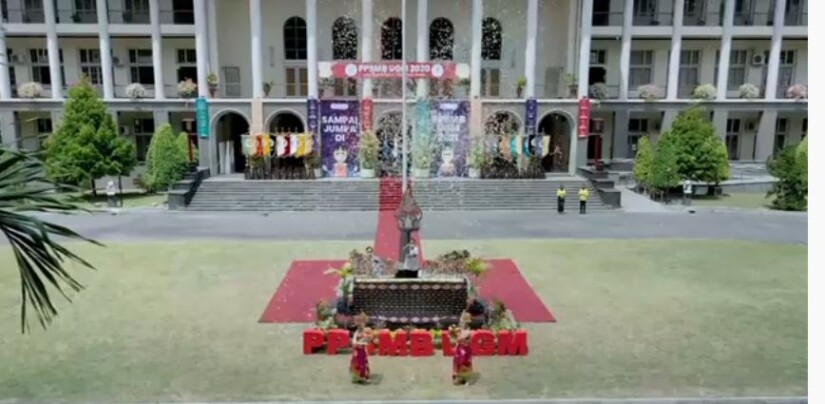 UGM Chancellor, Prof. Ir. Panut Mulyono, M.Eng., D.Eng., formally closed the 2020 Success Learning Training for UGM Freshmen (PPSMB) on Sunday (4/10). Many 9,044 freshmen attended the closing of the PPSMB marked by removing kayon or gunungan wayang by the Chancellor at the Balairung yard, followed by the Director of Education and Teaching, Dr. Agr. Ir. Sri Peni Wastutiningsih.
UGM Vice-Chancellor for Education, Teaching and Student Affairs, Prof. Dr. Ir. Djagal Wiseso Marseno, M.Agr., in his report, also said that all the UGM freshmen attended this successful learner training activity. This year, the execution of PPSMB must be online due to the Covid-19 pandemic. However, it did not hinder student enthusiasm. "Every day, around 96 percent of all students participate in this activity," he said.
The implementation of the PPSMB launched on 6 September and was continued with training at the university, faculty level, soft skills training to real action activities in their respective homes, which were broadcasted on social media. "The total for the posting on social media is 10,312. It had the bigger number than the real action they took," he said.
He also added that during the PPSMB activity, students got a lot of motivation sermons from alumni and national figures such as President Joko Widodo, Chairman of Kagama Ganjar Pranowo, Head of BKKBN Hasto Wardoyo, Deputy Governor of DIY Sri Paku Alam X, and Deputy Governor of East Java Emil Elestianto Dardak.
Author: Gusti Grehenson
Translator: Natasa A