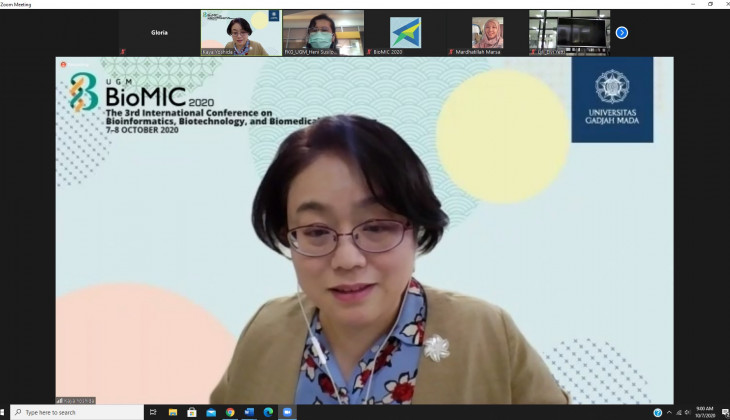 UGM Publishing and Publication Agency (BPP), for the third time, organized the International Conference on Bioinformatics, Biotechnology, and Biomedical Engineering (BioMIC) on 7-8 October 2020.
Some participants from five countries, namely the United States, Thailand, Japan, Sweden, and Indonesia, attended this event online.
"Although it was an online occasion, BioMIC was able to attract researchers both from our own country and abroad to present their research results," said UGM Vice Chancellor for Research and Community Service, drg. Ika Dewi Ana, M.Kes., Ph.D.
BioMIC 2020 is a series of UGM Annual Scientific Conference (UASC) scientific conferences in biotechnology, bioinformatics, and biomedical engineering. This year, 87 papers were submitted, with 74 of them successfully passed the review to be presented.
In his remarks, Ika revealed his gratitude to the speakers and participants for giving their time during the pandemic by bringing and sharing innovations, research results, and various ideas with UGM through BioMIC 2020.
"UGM as a Research University is proud to always be at the vanguard in disseminating the latest information on research results across disciplines," she said.
Articles that are successfully entered the next stage will have a presentation that will be divided into five symposia, namely Bioinformatics and Biological Data Mining, Biomedical Sciences and Engineering, Biomolecular and Biotechnology, Drug Development and Nutraceutical, and Public Health.
This year, BioMIC guides together experts from various countries, such as Prof. Nawi Ng (University of Gothenburg, Sweden), Assoc. Prof. Kaya Yoshida (Tokushima University, Japan), Dr. Kenji Tago (Jichi Medical University, Japan), Prof. Taifo Mahmud (Oregon State University, United States), and Dr. Adhika Widyaparaga from the UGM Faculty of Engineering.
In the first plenary session, Kaya Yoshida gave a presentation entitled "Periodontal disease-derived extracellular vesicles: Potential as a regulator of systemic diseases," In the next session, Kenji Tago delivered a presentation entitled "Ras-provoked cellular transformation and gene expressions."
In the next two sessions, Nawi Ng and Taifo Mahmud filled the plenary session before the event continued with a symposium.
To make the knowledge dissemination of knowledge to be more broadly disseminated, as in the previous conference, the outputs of the 2020 BioMIC results will be published in collaborating indexed journals and proceedings, such as BIO Web of Conferences, Indonesian Biomedical Journal, Indonesian Pharmaceutical Journal, Indonesian Biotechnology Journal, and Chemoprevention Journal. Indonesian Cancer, and Journal of Traditional Medicine indexed by Scopus / Clarivate Analytics / DOAJ / Sinta.

Author: Gloria
Translator: Natasa A