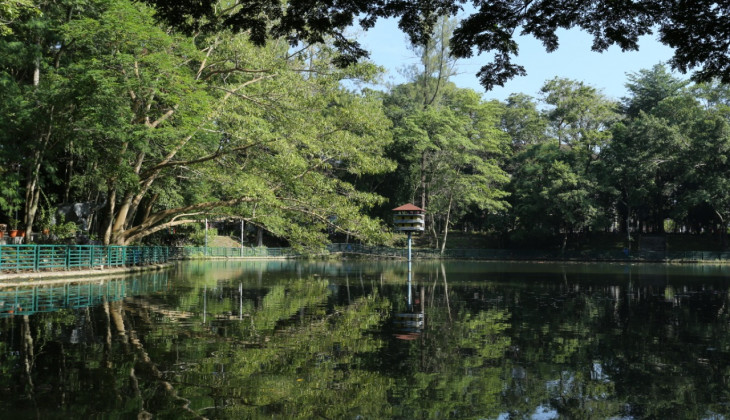 Prof. Ir. Panut Mulyono, M.Eng., D.Eng., as UGM Chancellor, has allowed becoming one of the speakers at the 6th International (Virtual) Workshop on UI GreenMetric World University Rankings (IWGM 2020).
On this occasion, Panut delivered a presentation related to water management at UGM for a healthy and resilient campus.
"UGM is one of Indonesia's largest universities, has a large population with more than 55 thousand students. This condition certainly led the water management to a challenging aspect," he said.
Panut revealed that the disproportionate use of main water sources is one of UGM's concerns regarding water management on campus.
One solution to this problem has been implemented in recent years. It was roofed with rainwater harvesting systems to provide alternative water sources.
"In the last five years, all new buildings at UGM were designed to have this kind of system," he explained.
The rainwater harvesting system itself comprises several components, namely the rainwater collection system directly installed on the roof of the building, the rainwater storage system, which is then utilized for daily water needs, and the distribution system to storage tanks, buildings, and sewers.
He also added that there is also another challenge, such as the high rainfall intensity in Yogyakarta, with an average of 400-500 mm/month, which often causes flooding in several areas, including the campus area itself.
Therefore, UGM has built a riverbank area into an urban campus park with a storm-water drainage system. These systems were located in the Wisdom Park area and the UGM Faculty of Engineering.
Wisdom Park also has an artificial lake to restore environmental components' function, create a microclimate, and improve air quality and the environment.
"Right now, flooding is no longer a matter for us after Wisdom Park can accommodate 31,500 cubic meters of water," said Panut.
Meanwhile, UGM has also implemented a water recycling program in some dormitory buildings using two methods: up-flow filtration and down-flow filtration.
Panut continued that one of the most successful clean water programs is Toya Gama, UGM's independent water supply facility for the community. In this facility, water is managed through three stages: the pre-treatment, ultra-filtration, and ultraviolet stages.
Toya Gama provides three types of services: 50 units of the water fountain, 12 units of water dispenser, and 25 housing water distribution units.
"We installed these facilities in some building areas, which are connected to all faculties and buildings in the UGM area," said Panut.
This workshop on October 13-15 raised the theme Universities' Responsibility for Sustainable Development Goals and World's Complex Challenges. This online workshop has become a forum for universities to share the best applications in building sustainable campus conditions.

Author: Gloria
Translator: Natasa A