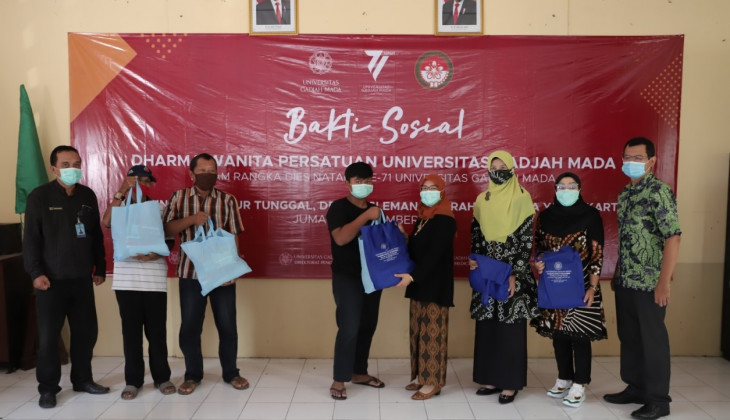 UGM Dharma Wanita Persatuan (DWP), in collaboration with GMC, UGM Academic Hospital, and the UGM Covid-19 Task Force, organized a social service in Blimbingsari, Caturtunggal, Sleman. A total of 170 basic food packages and Covid-19 prevention kits were handed over on Friday (6/11) morning at the Blimbingsari Padukuhan Hall. This activity was conducted as a sequence event of the 71st UGM Anniversary.
The DWP, the UGM Covid-19 Task Force, GMC, and UGM Academic Hospital's representatives handed over the aids to representatives of underprivileged residents, orphans, and the elderly from Blimbingsari. Not only handing over the package, but the UGM Covid-19 Task Force also held socialization activities to prevent Covid-19 from welcoming the new normal era.
Indriyanti Panut Mulyono, as the Chair of the UGM DWP, stated that this social service activity is considered an annual routine activity carried out by DWP UGM to commemorate the UGM Anniversary. He revealed that it usually entails distributing essentials and free health checks for the elderly, targeting five districts/cities in DIY.
"This year, it should be in Gunungkidul Regency's. However, because of Covid-19, we are considering limiting mobility and contact with the elderly. Hence, we decided to choose an area that was closer and ensured it was relatively safe. We decided this arrangement after coordinating with the task force," she explained.
Eventually, according to Indriyanti, she suggested that the neighbors around UGM should be prioritized. Due to Covid-19, economic conditions around Yogyakarta campuses, including Blimbingsari, have experienced a decline. This fact is because many students choose to return home due to eliminating face-to-face lectures and switching to an online class. Accordingly, Blimbingsari Hamlet was chosen as the location for this social service.
"So far, Blimbingsari Hamlet has always contributed support and assistance to UGM. Consequently, this hamlet deserves our favor in return. I hope that harmony and cooperation between these neighbors can last long in various fields in the future," he hoped.
Ir. Handoko Wardoyo, as the Head of Blimbingsari Hamlet, supported this idea. He also confirmed that the economic conditions in his region had worsened since the pandemic began. This condition is because most of the people of Blimbingsari are involved in services, from boarding houses, laundry to food stalls. All of them were developed because of the presence of students.
Hence, Handoko stated that aids from UGM were very helpful for Blimbingsari residents. "On behalf of all residents of Dukuh Blimbingsari, I would like to say big thanks. Hopefully, this support will be a blessing and an advantage for all of us. We always pray that Covid-19 will soon fade away, and we will turn into normal lives," he concluded.
Author: Hakam
Photo: Firsto
Translator: Natasa A