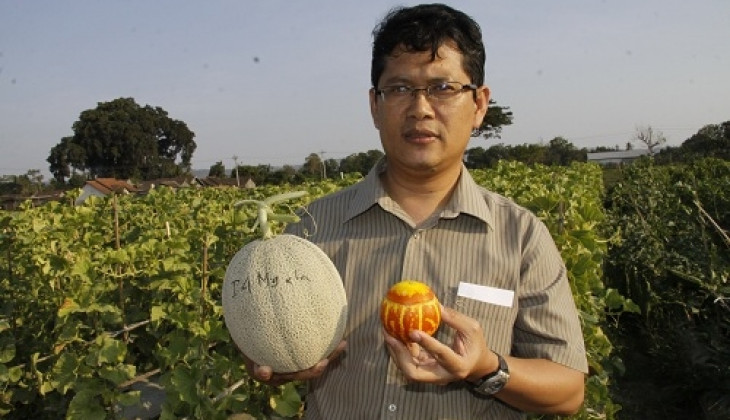 Prof. Budi Setiadi Daryono, M.Agr.Sc., Ph.D., as the Dean of the Faculty of Biology UGM, triumphantly won the 2020 UGM award in the Best Science and Technology Cluster Collaborative Research category.
This award is granted as a form of appreciation from Universitas Gadjah Mada to all academicians, including alumni who have accomplishments and contributions to society. This award is presented annually in the celebration of the Universitas Gadjah Mada Anniversary.
Budi Daryono, as a lecturer at the Genetics and Breeding Laboratory, has actively engaged in various research activities. One of his research has successfully brought him as the winner of the 2020 UGM Best Science and Technology Cluster Collaborative Research category, namely "Academic Integrative Collaboration in the Development of Raw Materials for the Cosmetics Industry with PT. Indonesian Nutrition ".
"We conducted collaborative research in the development of cosmetics made from Gama Melon Perfume (GMP)," explained the man who has been researching and developing various types of new melons on Friday (13/11).
Budi Daryono has developed Gama Melon Perfume, which is used as raw material for cosmetics, for a long time. This type of melon has a small fruit size, green fruit skin, and a unique ornament. Meanwhile, the taste is bitter. Still, it has a very fragrant aroma. Each tree can produce an average of 4-10 fruits with a weight per fruit of about 50 grams to 4 ounces. Meanwhile, the harvest duration takes about 55-58 days.
"GWP melon has a strong aroma that makes it perfect as a perfume," he explained.
Moreover, he delivered that research activities in collaborative research on the development of cosmetics with melon raw materials had fortunately been funded by the RISPRO-LPDP of the Ministry of Finance of the Republic of Indonesia in 2020 - 2022. The research proposes to promote cosmetic products made from GMP melon fruit. The research involved three faculties for collaboration, including the Faculty of Biology, the Faculty of Agricultural Technology, and the Pharmacy Faculty.
At the Faculty of Biology itself, Budi Daryono cooperated with several laboratories to develop GMP melon research. Some of them are the Genetics and Breeding Laboratory, Animal Physiology Laboratory, Microbiology Laboratory, and Plant Systematics Laboratory.
Meanwhile, in the market sector, he has a partnership with industrial partners, including PT. Gizi Indonesia for the cosmetic industry sector and PT. Nudira Sumber Daya Indonesia for the agricultural sector in the fulfillment of industrial raw materials. Some across sectors collaboration and comprehensive multidisciplinary knowledge made it one of the keys to lead success in winning an award as one of UGM's outstanding personnel in 2020.

Author: Ika
Translator: Natasa A