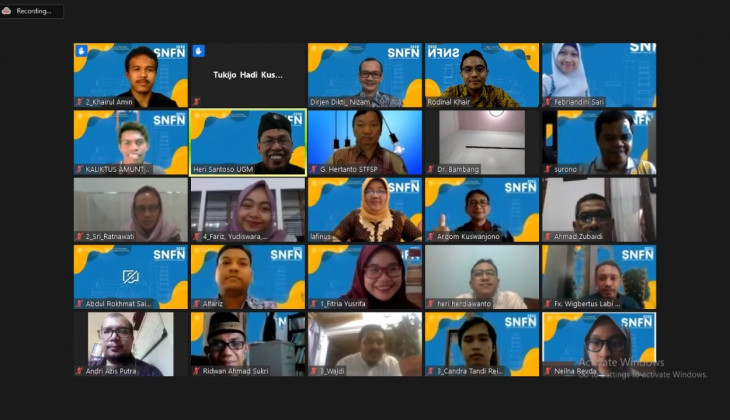 The Laboratory of Nusantara Philosophy (Lafinus), UGM Faculty of Philosophy, organized an online National Symposium on Philosophy Nusantara I on Saturday (14/11) via the Zoom platform.
Dr. Heri Santoso, as the Head of the UGM Laboratory of Nusantara Philosophy (Lafinus), said that this event proposed to explore the abundance of the Nusantara's local philosophy and wisdom. This asset is beneficial to be a problems' alternative solution in Indonesia. This event is in line with the UGM's slogan, namely Locally Rooted, Globally Respected. Accordingly, he mentioned that in this SNFN I, his team chose the theme entitled "Exploration of the Wealth of Philosophy and Local Wisdom of the Nusantara in the Context of Developing an Advanced Indonesia".
There were several speakers in this National Symposium, namely Prof. Drs. KH. Yudian Wahyudi (Head of the Pancasila Ideology Development Agency (BPIP), MA., Ph.D., Prof. Dr. Heddy Shri Ahimsa-Putra MA, M.Phil. (UGM Anthropologist), Dr. Sartini (Chair of the East Department of the Faculty of Philosophy UGM), and Sujiwo Tejo (Humanist). The keynote speaker, Prof. Ir. Nizam, M.Sc., DIC., Ph.D., as the Director-General of Higher Education, also attended this occasion.
In his speech, Prof. Heddy highlighted that local wisdom is a characteristic of a particular society that no one else has. Particularly, he added that local wisdom is somehow about ethical and aesthetic values. Heddy also stated that many parties had conducted research on local authenticity. Yet, according to him, there is still a fundamental problem: a lack of coordination.
"It is not surprising to know that those involved in local wisdom tend to go their own ways, and the results manage not to be well-handled. Therefore, there should be an effort to gather various studies of local wisdom into one work that can be used by various parties," he said.
In addition, Sujewo Tejo revealed that Indonesian people have multiple intelligences that other societies do not have. According to him, Indonesian can utilize this multiple intelligence to control themselves not to blame others easily. "This is what I mean by a form of local wisdom. This asset can preserve the harmony of human life," he explained,
Yudian agreed to this statement. He also stated that Indonesia is indeed very prosperous in local wisdom. The Head of BPIP added that these pearls of wisdom were still relevant as time went by.
"If we managed it properly, it would become a great support to advance Indonesian policies," he explained.
Sartini also supported that many academicians in Indonesia conducted research efforts and studies on local wisdom, including at UGM.
"What we currently need is how to publish and develop collaborative networks to promote local wisdom," said the UGM Philosophy lecturer.
Subsequently, Prof. Nizam added that the attempt to promote local wisdom through higher education is relevant to the Merdeka Campus program, Merdeka Learning, echoed by the Indonesian Higher Educations. Throughout this program, he demonstrated that students were no longer restrained to classrooms but were also allowed to learn through direct experience in the community.
Prof. Nizam explained that students could have non-lecture activities, such as internships, research, or community service, by coming directly to the community, either in the professional world or social, depending on their interests. Nevertheless, it is still covered in the SKS and is still accompanied by the lecturers' guidance.
"We have a goal to build superior human resources from the process of students handling real problems in society so that after graduation, they can adapt and owe the competencies required in society. This condition is because they are stakeholders who will generate Indonesia to be more advanced," he concluded.
Apart from presenting the speakers, the symposium that lasted for one day also emphasized 20 presenters on call for papers from several Indonesian institutions. There were around 211 people from various regions in Indonesia participated in this online national symposium activity.
Author: Hakam
Translator: Natasa A