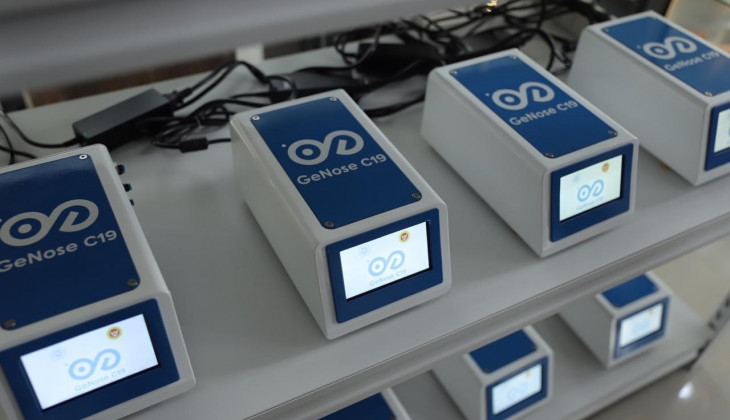 Central Java Governor Ganjar Pranowo revealed the Central Java Provincial Government will use Genose to increase the Covid-19 surveillance capacity in the province.
He has also ordered 100 devices primarily for use in hospitals and health centers.
"I tried the device just now. It was easy to use simply by breathing out. Within 3 minutes, the results were out. We aim to buy 100, but currently, we only get 35," said Ganjar when visiting the Genose production site at the UGM Science Technopark (STP), Tuesday (5/1).
Genose procurement is currently hampered by the limited availability of tools. This detection tool itself only received permission on 24 December 2020. Thus, the number of devices that have been produced is not sufficient to meet the increasing demand.
Ganjar revealed more Genose tools expected to apply in health centers and public facilities in Central Java if the production capacity is sufficient.
"If all community health centers (puskesmas) can procure the tool, that would be great. So do public places, but that is the next priority because currently there is not much production," he explained.
Ganjar visited STP UGM with representatives from the Central Java Health Office and Dr. Kariadi General Hospital (RSUP) Semarang to see first hand how Genose works and the production processes.
He said the Provincial Government's move to use Genose was an important political decision to provoke Indonesia to stop to continue its dependency on expensive, overseas-produced equipment.
Genose itself costs Rp 62 million and can be of repeated use by replacing its designated bag for Rp 15 thousand apiece. With this tool, the cost of Covid-19 detection estimates to be only Rp 25 thousand.
"I believe the public will be able to afford it if it is low-cost. And if the nation works jointly to donate, with Rp 100 thousand alone, it has helped four people," said Ganjar.
The government, according to him, must side with the homegrown invention. He hopes the government can mobilize regions to utilize this tool to increase regional level surveillance.
"In the current condition where Covid-19 cases continue to skyrocket, the state must take sides. The government's courage to decide is important," he said.
In line with this, Genose research team head Prof. Dr. Eng. Kuwat Triyana M.Sc. said Genose production priority is for the government and companies aiming to use Genose to detect many people.
As of December 31, he had received more than 10,000 orders for Genose. The production capacity itself targets reaching 5 thousand to 10 thousand in January 2021. It will also escalate in February according to the number of incoming requests.
"We do not recommend this tool to be of private ownership. It's not that we don't need money, but we allocate it for public use. Thus, this tool can test 120 to 200 people in a day. If we have 10 thousand, it will be 2 million people a day," he explained.
The device that has obtained a domestic patent, he explained, has a number of differences with similar tools that have been developed in several countries. One of which is the use of a separate breath bag from the Genose device, thereby reducing the possibility of virus transmission.
Author: Gloria
Photo: Firsto