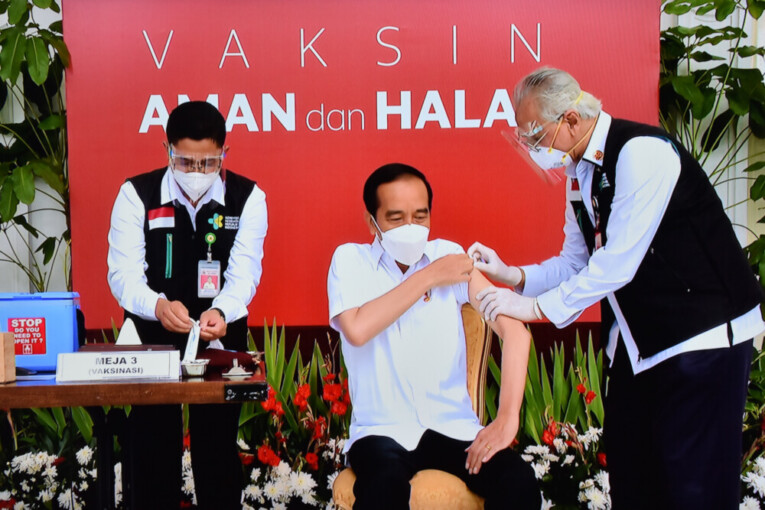 The Indonesian government has started a vaccination program to reduce the spread of Covid-19 transmission since Wednesday (13/1). This program begins with a vaccine injection for President Joko Widodo and his staff. Public officials, community leaders, and health workers follow afterward. The vaccine injection is expected to build herd immunity, which later can end the pandemic.
It is carried out in stages where the priority is for health workers, who are at the forefront of the response to Covid-19. People who have not received vaccinations still will have to follow strict health protocols to avoid this deadly virus transmission.
"Health protocols are still necessary because the vaccine protection is not 100 percent. But, at least those who have been vaccinated have a very low risk of being exposed to severe Covid-19," said UGM Epidemiologist Bayu Satria, Thursday (14/1).
For people who later received vaccine injections, Bayu emphasized they were not completely immune to the virus as forming immunity took some time. Moreover, vaccination will be carried out twice.
"After receiving the vaccine, it is necessary to stick to the health protocols as the vaccine provides the best protection around 1-2 weeks following the second injection. We still have to take care of ourselves after the injection. There still is a risk of getting infected if the immune system has not been formed," he said.
Regarding Sinovac's priority not for the group of children and the elderly over the age of 59, Bayu said these two groups would receive vaccine injections once the data from the test results were complete. "When the data obtained is more detailed, vaccines will also be given for the elderly and children. We are still waiting for more complete data," he said.
He also touched on criticism by netizens who still questioned Sinovac efficacy, which was considered low compared to other vaccine types, thus regarded as unsafe. According to Bayu, the Sinovac vaccine is among the vaccine types of the best safety level. "It is still quite good for it provides double or more protection and is also supported by the interim efficacy results in Indonesia of around 65 percent. The most important factors when choosing a vaccine are its safety first and efficacy second. Sinovac is one of the best in safety," he explained.
Author: Gusti Grehenson
Photo: Humas Setkab RI/Jay