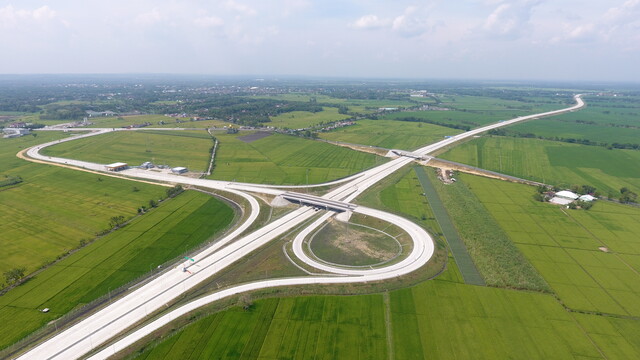 The Toll Road Regulatory Agency (BPJT) collaborates with UGM researchers to use Artificial Intelligence (AI) to monitor toll road damage all over Indonesia. The use of AI is expected to provide faster information if potential cracks and holes occur, enabling the early execution of maintenance.
"Using this technology, we can predict the toll road asset condition, allowing us to carry out the maintenance procedure immediately without waiting for the damage to occur first," said Head of the Toll Road Regulatory Agency (BPJT), Prof. Dr. Ir. Danang Parikesit, M.Sc., after signing the memorandum of understanding with UGM Rector, Friday (22/1).
According to Danang, using this technology allows the better maintenance of toll road infrastructure assets as BPJT regulates 2,300 kilometers of toll roads managed by 40 government-owned and private enterprises. "There are 62 toll roads with an investment portfolio of more than IDR 600 trillion. It is a huge asset," said Danang.
Besides, said Danang, the government planned to build 2,500 km of new toll roads by 2024. Hence managing such long toll roads requires more sophisticated technology and no longer relies on manual mapping methods. As there is a minimum standard of toll road services, with artificial intelligence collecting data on damage, BPJT will later ask the toll road management businesses to process immediate repairs. "No maintenance means exclusion from the toll road tariff adjustment conducted every two years," he explained.
UGM Rector, Prof. Ir. Panut Mulyono, M.Eng., D.Eng., welcomed the cooperation of AI implementation in the maintenance and operation of toll roads in Indonesia. According to him, through this technology, toll road management and operation will no longer use old methods, yet new ones for various purposes. "With AI, the monitoring and detection of road damage is going to be strict and accurate, allowing much faster handling," he said.
UGM researcher Imam Muthohar, ST, M.T., D.Eng. said his party would use a designated vehicle driving on the toll road with a camera capable of 30 frames per second. "From the document images, we can find out the road surface conditions and damage level," he said.
Another UGM researcher, Akhmad Aminullah, Ph.D., added that the installed camera on the vehicle would send the images connected to the server in real-time. After that, the images are processed to determine the crack and hole conditions along the toll road. According to him, the information collected by AI can predict the damage level, allowing related parties to perform maintenance immediately.
Author: Gusti Grehenson
Photo: bpjt.pu.go.id collection