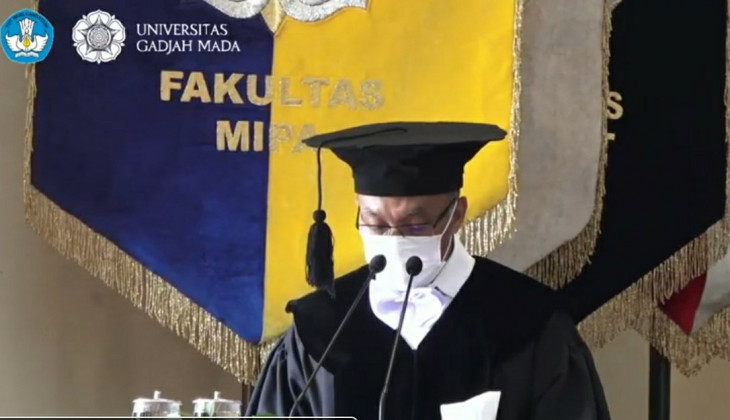 Prof. Dr. Eng. Yusril Yusuf, S.Si., M.Sc., M.Eng., as a Professor of Physics, UGM Faculty of Mathematics and Natural Sciences, said that some universities still had limited research on the development of liquid crystal. This condition has become a challenge for researchers in Indonesia to develop liquid crystal research and collaborate with related industries.
"There is still a limited research number on liquid crystal both fundamental and applied in several universities such as at UGM, ITB, and UNPAR," he said on Thursday (28/1) at the UGM Senate Hall in his speech while inaugurating the position of a professor entitled Development of Research and Technology of Crystal Materials. Liquid.
Yusril revealed that the liquid crystal material had unique characteristics. It is because liquid crystals combine the anisotropic properties of crystals and isotropic liquid. Accordingly, research in the field of liquid crystals is not only fascinating in applied research but also fundamental research. One of them is electrohydrodynamic instability.
According to him, fundamental research on electrodynamic instability is still considered a very intriguing topic. The research aims as an effort to understand the dynamics and regularities observed in complex systems.
Liquid crystal material has been commonly used for Liquid Crystal Display (LCD) display media. LCD technology is popularly used in several electronic products such as laptops, cell phone screens, calculator screens, televisions, etc.
Yusril additionally revealed the characteristics of the liquid crystal. One type of liquid crystal is the liquid crystal polymer (LCP). The LCP materials have a combination of liquid crystals and polymers characteristics.
"One of the most charming types of LCP is liquid crystal elastomer (LCE)," he said.
The macroscopic characteristics of LCE arise from the combination of the elastic characteristics of the cross-linked polymer and the liquid crystal's degrees of freedom of concentration. Considering the LCE material, it could make it a potential candidate for artificial muscles.
Author: Ika
Photo: Firsto
Translator: Natasa A