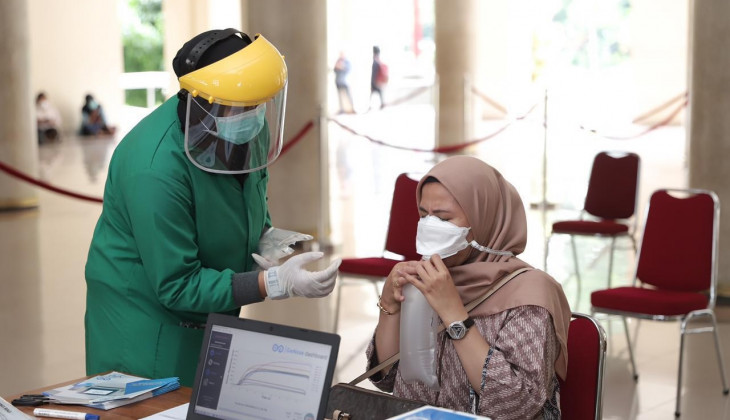 GeNose C-19, a Covid-19 breathalyzer developed by UGM, continues to undergo improvements. As it is now operating at several train stations and Yogyakarta hospitals, the need to improve the detector's accuracy, performance, and service will also increase, resulting in the developers' commitment to the continuous development of GeNose.
"We will continue GeNose development and research. We are currently completing several publication manuscripts generated from the results of profiling tests and pre-marketing diagnostic tests," said Dian Kesumapramudya, one of the UGM scientists who developed GeNose, when contacted on Friday (19/2).
Dian added that GeNose was now heading towards the external validation test, one of the processes it needed to undergo to complete the post-marketing diagnostic test. It would take place around March-April 2021 by a team of non-UGM researchers.
The breathalyzer's UI design and AI are also elements of regular updates. Dian and his team commit to making the design to be more user-friendly.
"We also develop and evaluate SOPs for screening," he added.
After receiving its distribution permit in December, GeNose has been massively welcomed by the Indonesian public. It is Indonesia's first AI-based breathalyzer innovation that can detect the virus fast, is highly-accurate, non-invasive, and relatively cheap. Its application is connected to cloud computing systems to get real-time diagnosis results.
Currently, GeNose has been operating at three Yogyakarta hospitals, namely Bhayangkara Hospital, dr. Sardjito General Hospital, and UGM Academic Hospital. It has also been a screening alternative for train passengers at eight stations, such as Tugu Station, Senen Station, Gambir Station, Solo Balapan Station, Bandung Station, Cirebon Station, Semarang Tawang Station, and Surabaya Pasar Turi Station.