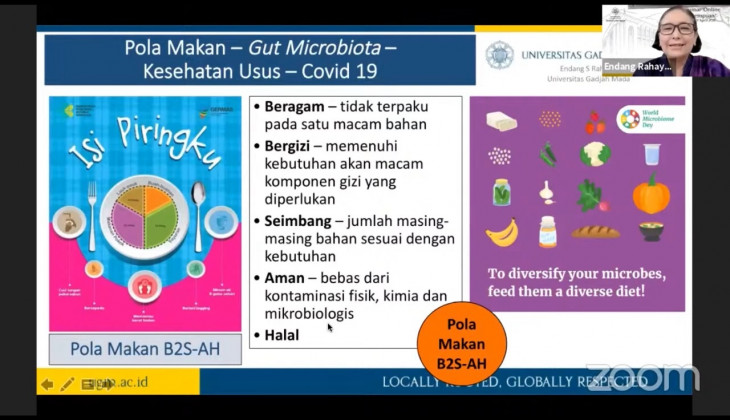 In the commemoration of Kartini's Day, UGM organized a webinar that raised women as a theme for a discussion topic on Wednesday (21/4). There were also a few speakers invited, such as Prof. Dr. Ir. Endang Sutriswati Rahayu, M.S., Prof. dr. Gandes R. Rahayu, Med.Ed., Ph.D., dan Prof. Dr. Ida Rochani Adi, S.U. Endang believed that the nation's power lied in its human resources and competitiveness.
"A healthy human resource is highly important to achieve this condition. Hence, the government targeted to reduce the stunting number and the wasting. It means nutrition is necessary for growth, and it needs attention," said Endang.
A mother is the frontline figure in the family who has a crucial role in family growth, both physically and spiritually. One of the roles is providing breast milk or ASI for her kids intensively. ASI is important for long-term growth for each individual because it contains Gut Microbiota. Besides, a mother is a figure responsible for ensuring the intake patterns of their family. The ideal pattern is when it meets the B2S-AH standard. It consists of assorted, nutritious, balanced, nourished, and halal. Not only striving for themselves, Prof. dr. Gandes R. Rahayu, Med.Ed., Ph.D., also added that women also strive for the nation because their roles are crucial in producing a generation with a good quality of cognition, emotion, behavior, and children's health.
"Women can do more today. They should have applied lessons learned during their education to their family. It's a key, a focus," said Gandes.
Gandes believed if women were well-educated, there would also be an improvement in its nation's human capital.
Meanwhile, Prof. Dr. Ida Rochani Adi, S.U., said that women often are socially constructed on their particular limitations, such as only cooking, washing, and dressing up. However, their roles have been developed to take care of other important global issues such as human rights, racism, sexism, multiculturalism, cosmopolitanism.
"Today's condition can be a potential field for women to express themselves," explained Ida.
Author: Khansa