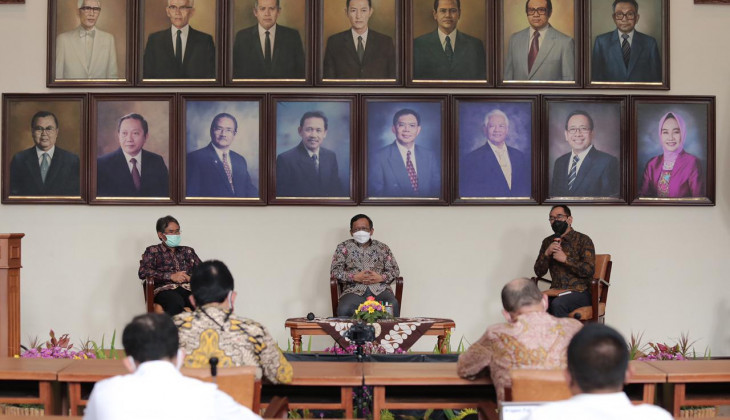 Coordinating Minister for Political, Legal, and Security Affairs Professor Mohammad Mahfud MD paid a visit to Universitas Gadjah Mada for a dialogue with leaders of public and private universities in Yogyakarta, Saturday (5/6). The discussion revolved around the current situation of Indonesian politics, law, and security. Both present university leaders and the minister exchanged views on the challenges and solutions related to the said matters.
"We certainly hope that scientific approach will generate proper measures that will let our country survive and prevent our downfall," he said.
Mahfud assessed that the issue of corruption has now become widespread throughout the structure, vertically and horizontally. It remained firm, regardless of the rulers and changes in the regime. Slightly different from the New Order, in which corporatism was the culprit of the corruption, collusion, and nepotism, nowadays it occurred on behalf of the freedom of formal democracy.
"It's (corruption) now expanding. We begin to question whether we have already practiced democracy the correct way. This is the issue we want to talk about today," said Mahfud.
He invited academics and experts to overcome the prevailing problems by providing thoughts and actions to determine the country's direction in the next five to ten years and the required measures to get there. He urged them to collaborate to advance the country as far as possible.
UGM Rector Professor Panut Mulyono added that universities played a significant role in educating youth with knowledge and noble values. Students were encouraged to internalize diversity and unity to enable them to develop into great leaders.
"Public is counting on UGM and all universities to advance and accelerate the nation's prosperity. We are working on it now. We strive to develop our students to be competent leaders in various fields and respect differences," said Panut.
Author: Gloria
Photo: Firsto