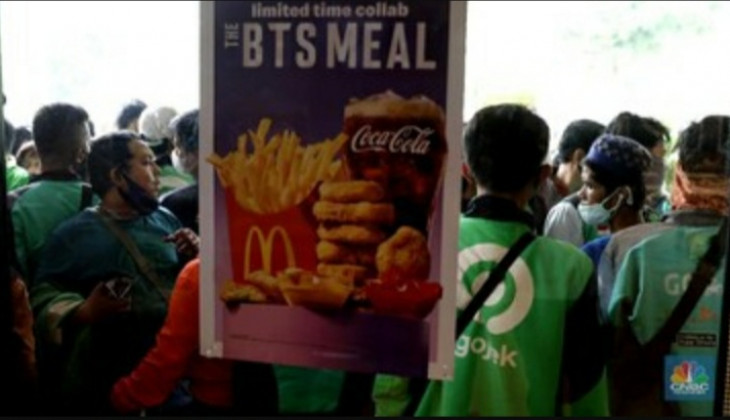 The viral BTS Meal collaboration between McDonald's and South Korean boy group BTS received praise from UGM marketing expert Bayu Sutikno. With the BTS Army as the main target, estimated more than 18 million people, the BTS Meal campaign seems a brilliant tactic to respond to the global pandemic difficulties. Indonesia itself is reportedly among the countries with the most Army in the world.
"This marketing strategy is a creative answer to the decline in turnover that numerous business sectors, including franchise networks, face nowadays due to the pandemic," he said on Friday (11/6).
Bayu assessed that the power of a big fanbase like BTS Army on the campaign would create a phenomenal impact. As a big fan group renowned for its loyalty, they would regard BTS as a source of reference and role model, not to mention the social media hype. This approach would, of course, work well with the viral marketing strategy that McDonald's was running.
"Army treats BTS as a reference and role model in many aspects, including fashion, fun (music, etc.), movies, and food. BTS Meal is what we witness in the food segment," said the UGM Faculty of Business lecturer.
Started in Indonesia on Wednesday (9/6), the phenomenon of surge order and queue crowds has been pretty much viral everywhere. The campaign itself has already started earlier in May in several countries and will end in June, with more than 45 participating countries reported. According to Bayu, McDonald's will have to find answers to the sustainability of this strategy to prevent it end as a merely temporary sales trend. The company can map other 'loyal' fan groups in music, football/sports, or particular star figures to launch similar products and expect an equally positive response.
It is also worth noting that the company must address the violation of health protocols that occurred during the first days of the campaign, which result in some outlets fined and ordering apps suspended temporarily. Bayu added that the relevant parties, teaming up with the regional COVID-19 task force, needed to formulate a better food ordering system to ensure the health measures were put into practice. For example, they could implement pre-reservation with a fixed, organized schedule. That way, he said, could reduce the potential for crowds and speed up the job of the delivery drivers.
Author: Ika
Photo: CNBC Indonesia