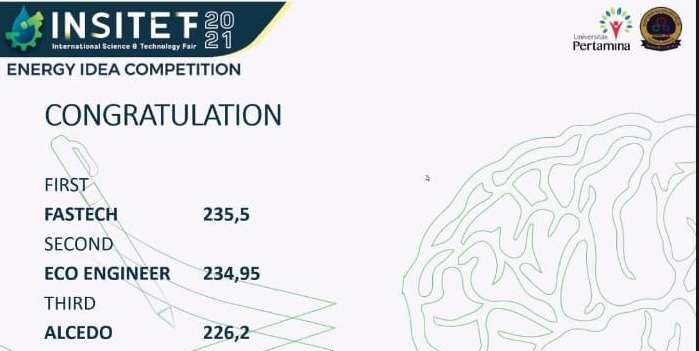 Two teams from Universitas Gadjah Mada, Fastech and Eco Engineer, secured first and second prizes in the Energy Idea Competition – International Science and Technology Fair 2021 held online by Pertamina University and the Indonesian Engineers Association on March 13 – June 30. They managed to beat the other 47 teams from various well-known universities in Indonesia with bright ideas and innovations on renewable energy.
Both Fastech and Eco Engineer, first and second winners respectively, consist of students from multi-disciplines, namely Ahmad Bikhari Hakim (civil infrastructure management and maintenance engineering), Alfitra Heydar Achsan (engineering physics), and Wisnu Hozaifa Hasan (mechanical engineering) for Fastech and Mayradaffa Adyudya (mechanical engineering), Rakhmat Eko Saputro (nuclear engineering), and Resa Wardana Saputra (chemical engineering) for Eco Engineer.
Wisnu of Fastech explained that his team focused on integrating vortex bladeless wind turbines and photovoltaic modules to increase the efficiency of electricity generation in urban areas. With the help of a smart microgrid, this system can help electrify houses and streetlights optimally. "Hopefully, this innovation can be implemented in the future and functions as an alternative for optimal electrification in urban areas," said Wisnu on Wednesday (7/7).
Eco Engineer representative Resa said his team's idea emerged from telecommunication issues in a remote village Reka in East Nusa Tenggara. Eco Engineer proposed a solution through hybrid technology of floatovoltaics and vertical-axis wind turbines to supply energy for the base transceiver station in the said area. "Our technology uses the combined Savonius-Darrieus wind turbine arranged in series. Three equipment of hybrid floating photovoltaic-vertical axis wind turbine will generate 38.58 kWh/day," said Resa.
These ideas emerge as means to attain sustainable development goals, especially renewable energy. They may pave the way for many other innovative devices and technologies that can optimize electrification throughout Indonesia.
Author: Desy