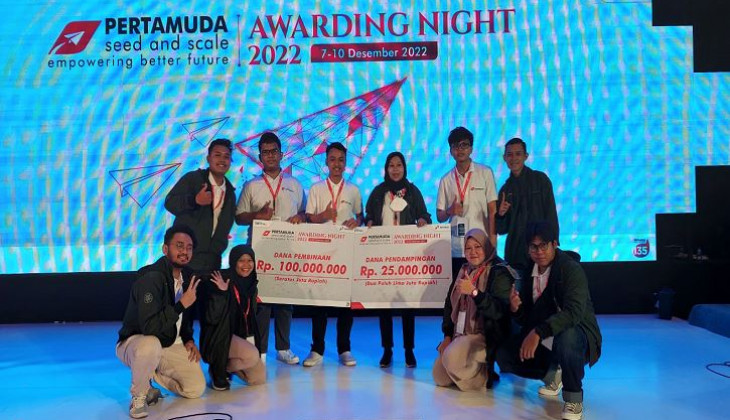 Gepo Energy, a startup team from Universitas Gadjah Mada (UGM), has secured a coaching fund of 100 million rupiahs upon being named the Top 3 Winners of the 2022 Pertamuda Seed and Scale.
Together with Cody Kit from the Bandung Institute of Technology and Taman School from Universitas Indonesia, the UGM team has beaten 2,445 startups from 386 public and private universities in Indonesia.
Pertamuda is a business idea competition for young entrepreneurs in the field of sustainable energy and economy initiated by Indonesia's state-owned oil and natural gas company, PT Pertamina (Persero).
Head of Gepo Energy, Lathief Nurmahmudi Wijaya, said he was happy and proud of the achievement. As a startup engaged in renewable energy, Gepo Energy has developed a photovoltaic roof tile product called Gepo or Genting Photovoltaic. The product is equipped with self-cleaning glass and an intelligent IoT system for automatic maintenance and monitoring.
"We are very grateful and happy to be in the top three of the Pertamuda competition," said Lathief.
The team also appreciates the continued support from the UGM Directorate of Student Affairs, particularly the Sub-directorate of Student Character Development.
"Hopefully, we can continue to grow and develop clean and affordable energy in Indonesia in accordance with Sustainable Development Goal 7," he said.
Head of the Entrepreneurship Section, Suprijani, added that all UGM teams were given training and close mentoring before the competition.
"The success of UGM students in entrepreneurship events is expected to inspire and spark students' enthusiasm for innovation and entrepreneurship," said Suprijani.
Author: Gusti Grehenson