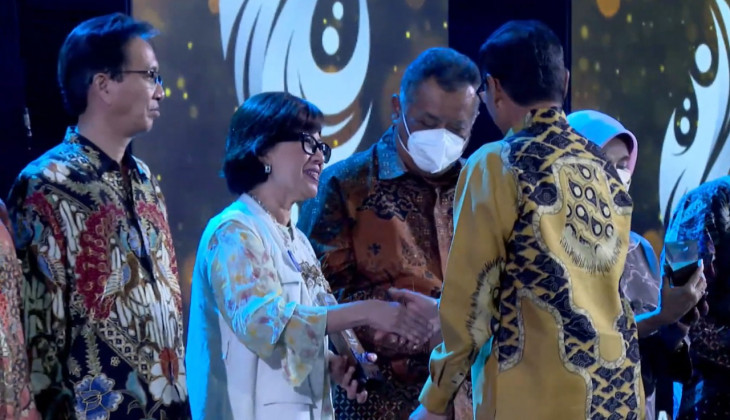 Universitas Gadjah Mada (UGM) has swept thirteen awards at the 2022 Diktiristek Awards. The announcement took place on Thursday (15/12) in Jakarta.
UGM Rector Prof. Ova Emilia thanked the UGM community for their hard work and dedication. These thirteen awards are a joint victory and belong to the entire UGM community.
"This achievement is an appreciation and evaluation for all of us. We succeeded thanks to the support of various parties, including UGM alumni and partners," said Prof. Ova.
The Rector said there was still room for improvement, and UGM was working hard to improve quality and achievements in all fields.
The thirteen awards that UGM received at the event were:
National Priority Award
University with the best pharmaceutical independence to support Indonesia's self-reliance in health (Merah Putih Vaccine)

University with the best electric vehicle innovation to support Indonesia's green economy (Merah Putih Electric Bus)

University with innovation in Indonesia's tourism development to support tourism recovery in Indonesia (Indonesian Cultural Heritage Metaverse)

University with innovation in Merah Putih Laptop Technology Device
Learning and Student Affairs Award
Best university in the 2022 Indonesian Student Entrepreneurship Expo - Indonesian Student Entrepreneurship Program

SPADA Awards - Course with Best Learning Design in 2022: Yeni Susanti - Elementary Linear Algebra (second-best)
Resource Award
Best Lecturer in Arts and Culture - 2022 Academic Leaders: Wening Udasmoro
Institutional Award
University with the best study permit management for foreign students (bronze winner)
Research, Technology, and Community Service Award
University with the most research proposals receiving funds from the Directorate of Research, Technology, and Community Service for 2020-2022
Public Relations Award
Website (bronze winner)

Video profile (bronze winner)
Collaboration Award
Best International Cooperation (gold winner)

Best Collaboration Report (gold winner)
The Diktiristek Awards are awards given annually by the Directorate General of Higher Education, Ministry of Education and Culture, to appreciate the performance of universities in implementing higher education, research, and technology programs and policies.
Aside from campuses, the event also awards partners from ministries, institutions, businesses and industry, journalists, and media who have actively participated in the transformation of higher education, the attainment of Higher Education Key Performance Indicators (IKU), matching fund programs, and more.
Author: Ika