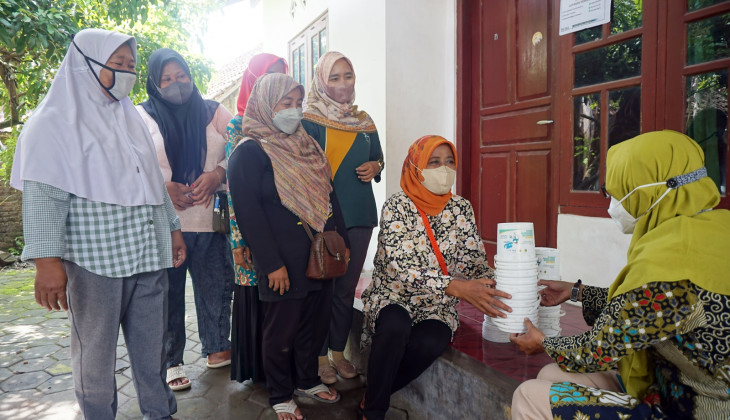 The WoW Mantul program, which began in late 2021, has resulted in a population of 76.8% of Wolbachia-carrying mosquitoes in Bantul Regency. A total of 22,154 buckets containing Wolbachia mosquito eggs were deposited in selected houses in May this year and withdrawn on December 5-16.
The program was a collaboration between the UGM Faculty of Medicine, Public Health, and Nursing, supported by the World Mosquito Program (WMP) Yogyakarta and the Tahija Foundation, and the Bantul Health Office to breed Wolbachia-carrying mosquitoes in an effort to tackle dengue fever.
"The WoW Mantul program was implemented in 11 sub-districts, 38 villages, and 519 hamlets, in collaboration with 18 health centers and around 3,200 health cadres," said Dr. Eggi Arguni, Diagnostic Team Leader of WMP Yogyakarta, on Wednesday (7/12).
According to Dr. Eggi, the team will monitor the mosquito population two and four months after the bucket withdrawal. She hopes this figure can remain high and further reduce dengue cases in Bantul.
The Regent of Bantul said that the WoW Mantul program had been well communicated, as seen from the willingness of residents to learn about this health intervention for dengue control. In the end, he said, maintaining good health was the responsibility of each individual.
Head of Bantul Health Office, Agus Budi Raharja, said his office would continue to monitor dengue hemorrhagic fever cases and fatality rates in the regency. Other programs, such as mosquito nest eradication, larva monitoring, and clean and healthy living behavior (PHBS) campaigns, will also continue.
Tahija Foundation Chair Trihadi Saptoadi thanked the Bantul government for contributing and supporting this dengue control research project. Other local governments that want to apply Wolbachia technology can follow the example of the Bantul and Sleman regencies.
"We have successfully developed Wolbachia technology as a DHF control innovation in which the community plays a major role," said Trihadi. "We can see the efficacy of Wolbachia in controlling DHF because of their response to this project. Hopefully, this joint effort can reduce the burden of dengue in Indonesia."
Author: Gloria