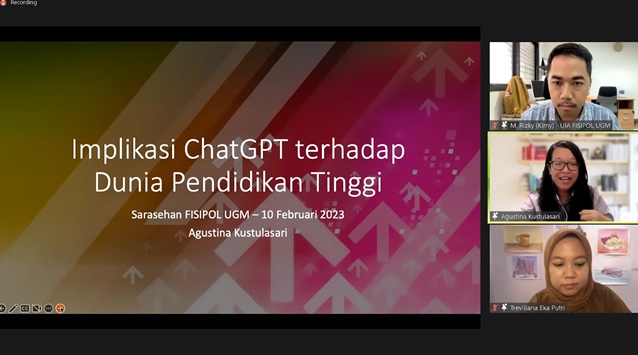 AI technology is once again causing a new controversy in education. The emergence of an AI-powered chatbot called ChatGPT that allows users to access various information through conversation balloons is quite troubling because it can potentially become a means of academic fraud.
The UGM Faculty of Social and Political Sciences responded to this issue by organizing a discussion, Chat GPT Polemic: How Universities Should Act, on Friday (10/2).
"This phenomenon seems shocking, but it has been predicted before. Artificial intelligence is not new; it has even become part of the life of modern society," said the Dean of the Faculty of Social and Political Sciences, Dr. Wawan Mas'udi.
According to him, ChatGPT, which the wider community can access, needs to be addressed wisely because technological developments will continue to emerge and impact humans.
ChatGPT has recently gone viral for its ability to generate paper-like sentences with valid data. Users can type in questions in the chat field, and the AI will instantly answer along with the source of information. It is expected that in the future, this AI will be copyrighted as an author in some written works.
"There needs to be copyright or authorship innovation to make good use of this technology," Wawan said.
Treviliana Putri, a researcher from the Center for Digital Society, said one of the concerns about AI was that it could replace human jobs, thus urging humans to improve their abilities on par with or even above the technology just to maintain their existence.
"We will lose our jobs, and robots and systems will overtake us," she said.
Public Policy and Management lecturer Agustina Kustulasari added that ChatGPT had its pattern for constructing sentences.
"When I asked, "Can you write an essay?", it did not answer by writing an essay. Instead, it gave an overview and arguments that could be the basis for an essay. Similar to other questions, I think the answer is general, and most people would think like that," Agustina said.
AI is intended to facilitate human activities, so it cannot be positioned as a substitute for humans. Systems will continue to evolve and still have limitations, while humans can do so indefinitely and will continue to develop the technology.
Author: Tasya