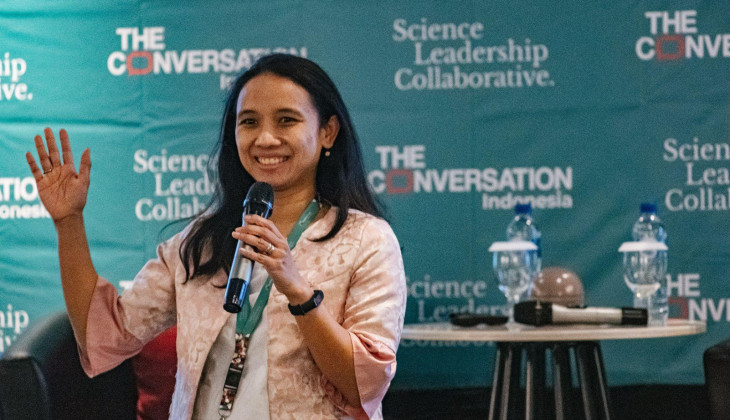 UGM lecturer Dr. Antonia Morita Iswari Saktiawati is one of 27 Indonesian researchers who have completed the nine-month leadership development program for world-class scientists, Science Leadership Collaborative (SLC), initiated by The Conversation Indonesia.
The 27 graduates from different regions and fields attended the graduation ceremony in Ungasan, Bali, on Friday (17/3). There were also renowned figures such as Prof. Sangkot Marzuki, Chairperson of the Indonesian Academy of Sciences 2008-2018, and Prof. Jatna Supriatna from Universitas Indonesia.
"This cohort is the pioneer. I am hoping (they do) not only know how to collaborate but also mature as a scientist," Prof. Jatna said.
Over the course of nine months, Dr. Morita conducted a series of learning activities ranging from seminars and workshops, one-on-one coaching, peer learning, and learning through a learning management system.
In addition, various leadership development experts from America, Europe, and Asia took part in this program to provide a quality learning experience for the cohort. As part of the program, each researcher was paired with a mentor from around the world. Dr. Morita had Dr. Delvac Oceandy, a lecturer at the University of Manchester, as her mentor.
"Thank you to my mentee, Dr. Morita, from Universitas Gadjah Mada. Hopefully, everything we have discussed can be useful for the development of her academic career in the future," said Dr. Delvac.
On this occasion, the innovation projects the researchers developed at the end of the program were presented. Antonia was one of the five selected presenters. She introduced a campaign project to raise awareness and prevent the spread of fungal infections related to climate change.
Stakeholders and experts such as Prof. Sangkot Marzuki as the academic representative, Prodita Sabarini as the media representative, and Rifa Atsari as the start-up representative gave feedback to Dr. Morita and other graduates for their projects.
The program concluded with a dinner and inauguration. Many expectations arose after this program, including the impact that the researchers could create after graduation.
Prodita Sabarini, The Conversation Indonesia CEO/Publisher, added, "I hope there will be many new collaborations, new initiatives, and a wider network among the researchers."
Author: Gloria