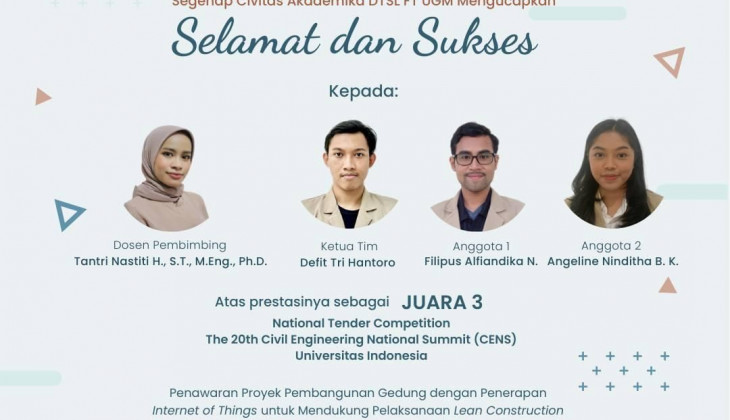 The Calon Pemborong team from the UGM Civil Engineering program won third place in the National Tender Competition of the 20th Civil Engineering National Summit (CENS) Universitas Indonesia.
The team comprises three undergraduate students from the 2020 cohort, Filipus Alfiandika Nugrahadi, Defit Tri Hantoro, and Angeline Ninditha Bulan Kusumaningrum.
Filipus explained that the 20th CENS UI National Tender Competition is a contest to design the best offer to win building construction. This year, the contest took a theme Utilization Lean Construction Model to Achieve Cost-Efficiency Sustainable Construction.
"The team went through a series of activities by preparing bidding documents in the preliminary round and presentation before the jury in the final round," he said at UGM on Wednesday (29/3).
He added that each team prepared the bidding documents for approximately one month, and only five shortlisted teams could advance to the final round, which took place at Universitas Indonesia, Depok, West Java.
"Praise be to God, Calon Pemborong won third place in this competition," he said.
Defit added that the team brought the application of the Internet of Things in the project bidding to support the implementation of lean construction. The idea was considered in line with the competition theme, which demands efficiency to achieve cost-effective, sustainable construction.
"One of the innovations offered is the use of an IoT-enabled contractor application that offers data integration and ease in the monitoring process to minimize the potential for waste in construction," explained Defit.
He admitted that the team's success could not be separated from the lecturers. During document preparation, the team was directly assisted by Dr. Tantri Nastiti Handayani.
"We received guidance, direction, and encouragement in every process," he said.
Author: Agung Nugroho