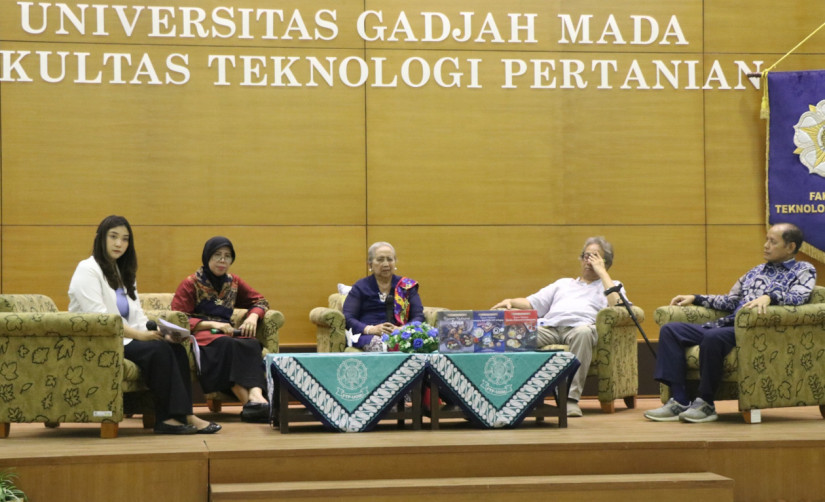 In collaboration with Penerbit Andi, the UGM Faculty of Agricultural Technology has launched a series of books exploring snacks from across Indonesia called Seri Pusaka Cita Rasa Indonesia.
The series consists of three books on traditional snacks from Java; Sumatra, Bali, West Nusa Tenggara, East Nusa Tenggara, and Papua; and Maluku, Sulawesi, and Kalimantan written by Prof. Murdijati Gardjito, Prof. Eni Harmayani, and Prof. Umar Santoso. The books are expected to be the basis of information to develop culinary products.
Acting Director-General of Higher Education, Research, and Technology, Prof. Nizam, said the birth of these books documented the richness of Indonesian snacks. This quality, he added, must be preserved and introduced to the global community.
"Let's promote this as a work of the nation's children that is no less beautiful and interesting than the variety of Indonesian cultural arts," he said in his introductory speech.
Butet Kartaredjasa, an artist, culturist, and culinary entrepreneur, expressed his appreciation for the three Indonesian snack books. He is grateful for the work of Prof. Murdijati Gardjito and the team collected from 2003 to 2012.
"I'm sure she also thought of side dishes and carbohydrate processing. This is a treasure trove of knowledge for those who want to build a culinary business, and of course, they can learn from these books," he said in the book launch and talk show at the faculty on Thursday (30/3).
These books challenge culinary business players to experiment using the data presented. They become a reference that is expected to unite various ethnicities in Indonesia.
"It can be an innovation and creation, and the inspiration comes from these books," he said.
Butet added that culinary as a cultural product does not have to be final. It is expected to evolve and challenge new interpretations that can give birth to creativity. He plans to honor Prof. Murdijati with a lifetime achievement award during the Yogyakarta Cultural Festival.
Prof. Murdijati, an avid pioneer and researcher in Indonesian gastronomy, expressed her concern that traditional food lags behind imported food. This prompted her to gather information on Indonesian cuisine in 2003.
"The sad thing is that no one talks about our traditional food. Not many textbooks support our traditional food, no one cares to write, and literacy is very low. How will people love Indonesian food if they don't know?" she said.
She recounted the process of collecting data for the books. She sorted through indigenous and acculturated foods and found over 1,000 fares listed as native to Indonesia, 600 cassava-based.
"From this cassava-based food, we will see the typical food in each region. On average, the three books we wrote are approximately 400 pages thick," Prof. Murdijati said.
Another author of the books, Prof. Eni Harmayani, also the Agricultural Technology's Dean, added that the book series initiated by Prof. Murdijati is a milestone for the faculty which this year celebrates its 60th Anniversary.
"With her diligence, Prof. Murdijati documented all the food in Indonesia, and this afternoon, we are launching three books of Indonesian snacks series," the Dean remarked.
Prof. Umar Santoso said besides these three books, 15 books of a similar kind will also be published. The plan is that the first book will discuss drinks, the second book about snacks, and the third book about main meals.
"This kind of book, if implemented seriously, will support food security, and of course, this book can be utilized in all aspects of economy, tourism, and culture," he added.
Author: Agung Nugroho