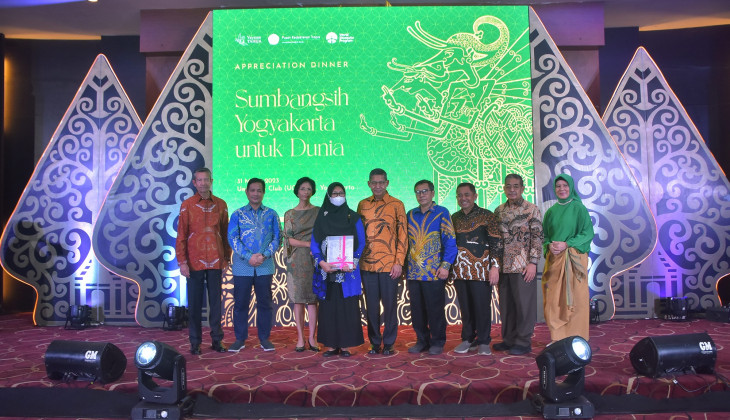 As a token of appreciation for the success of the Wolbachia-Aedes Mosquito project in reducing 77% of dengue cases and 86% of dengue hospitalizations in Yogyakarta, the World Mosquito Program (WMP) Yogyakarta, the UGM Center for Tropical Medicine, and Tahija Foundation invited all parties in support of the project to dinner on March 31, 2023.
Among the distinguished figures present were Setyarini Hestu Lestari, Head of Disease Control of the Yogyakarta Provincial Health Office representing the Yogyakarta Governor; Dr. Yodi Mahendradhata, Dean of the UGM Faculty of Medicine, Public Health, and Nursing; Sjakon George Tahija, ophthalmologist and Chair of the Board of Trustees of Tahija Foundation; George S. Tahija, Board of Trustees of Tahija Foundation; and Prof. Adi Utarini, WMP Yogyakarta project leader.
Commencing the dinner, Sjakon G. Tahija shared how Tahija Foundation started researching Wolbachia. Five years prior to the start of the research in 2011, the foundation had been studying larvacides for dengue control. Unfortunately, the research was not successful in suppressing dengue cases in Yogyakarta City.
"Until one day, the Tahija family learned about Wolbachia and took an interest in developing research on dengue control with Wolbachia. Since 2011, it has been conducted rigidly with high research standards to oversee the success of this technology," said the ophthalmologist.
Sjakon acknowledged that the remarkable success of this research could not be separated from the support of many partners, stakeholders, and the community. At least this program involved more than 8,000 health cadres from three regions: Yogyakarta City, Sleman Regency, and Bantul Regency.
Research and deployments of Wolbachia-infected mosquitoes were conducted in 122 urban villages (231 square kilometers), protecting around 2.2 million people. Seeing this success, the Ministry of Health decided to use this strategy nationally in 5 cities with high dengue cases, West Jakarta, Bontang, Semarang, Bandung, and Kupang.
"Hopefully, our contribution will help realize Indonesia's hope to be free from Dengue Hemorrhagic Fever (DHF). We, Tahija Foundation and UGM, sincerely thank all partners, researchers, and employees who have committed and worked hard to deliver the project's success," said Sjakon.
In her report delivery, Prof. Adi Utarini explained that before being scientifically tested in the community and influencing national policy, the project started in a laboratory led by Dr. Eggi Arguni. Evidence of the impact of Wolbachia technology on dengue was obtained from the best methodology and randomly comparing Wolbachia intervention areas with predetermined comparison areas. The Yogyakarta study is the first in the world to show significant results in depleting dengue infection incidence (77%), dengue hospitalization (86%), and fogging activities (83%).
"This is a real potential efficiency as fogging is the most costly component of the dengue program. We believe the community should also gain the knowledge we gained from this research. In Javanese, our research journey and lessons learned so far are written in two books: Besanan Nyamuk and Trah Wolbachia," said the professor.
She said the implementation in Sleman and Bantul Regencies, with the support of the local government and the involvement of community organizations, such as Muslimat Nahdlatul Ulama, is an important note for other regions. The implementation model book outlines all steps, a series of operational decisions, and things that may need to be adapted by local areas.
Dr. Yodi Mahendradhata said that, like UGM's tagline, WMP Yogyakarta is 'locally rooted' as it solves societal problems with technology and empowers the community. It is 'globally respected' for national and international recognition and awards received and 'fruitful' for giving many benefits to people in Yogyakarta and other countries. It also 'has beautiful flowers,' for it has made UGM proud worldwide.
"In particular, we would like to thank Tahija Foundation for the extraordinary cooperation that has created new standards at UGM and produced something beyond expectations," said Yodi.
Setyarini Hestu Lestari, reading the speech of the Yogyakarta Governor, Sri Sultan Hamengkubuwono X, briefly conveyed global and national policies in dengue control. In 2012, WHO set a commitment to control dengue through the Global Strategy for Dengue Prevention and Control (2012-2020).
Later in 2020, WHO declared dengue as 1 of 10 diseases included in the list of global health threats; hence, the worldwide target of dengue control, which is to reduce the mortality rate due to dengue, shifted from 0.8 percent in 2020 to 0 percent in 2030.
"In Indonesia, the global target is followed up in the National Strategy for Dengue Management in 2021-2025. Optimism arises because of the pressure from Sustainable Development Goals (SDGs) and the results of WMP Yogyakarta research," she said.
On this occasion, Tahija Foundation presented awards to several key figures, such as Sri Sultan Hamengkubuwono X for his support as governor; Prof. Yati Soenarto for pioneering this research; Dr. Maxi Rein Rondonuwu for enabling the application of this technology in other provinces; Rubangi for encouraging the DHF control program; Siti Roikhana Munawaroh for mobilizing the community; Herman Budi Pramono for leading people; Dr. Warsito Tantowijoyo for overseeing this research; and Anton W. Prihartono for disseminating Wolbachia technology to the broader audience.
Author: Agung Nugroho