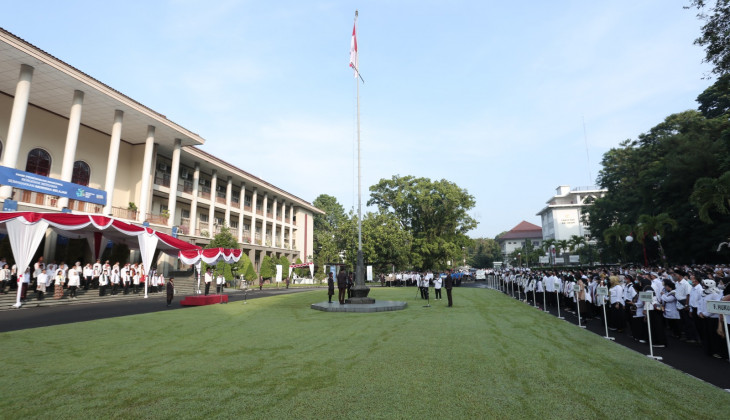 UGM held a flag-raising ceremony to commemorate National Education Day at Balairung on Tuesday (2/5).
In the ceremony attended by thousands of UGM academic community, UGM Rector, Prof. Ova Emilia, emphasized the university's commitment to Merdeka Belajar policy by building a new education ecosystem that is innovative, strategic, competitive, and synergistic. The development of content and skills that are relevant, up-to-date, and dynamic to answer the needs of future jobs and professions is a priority for UGM.
"Through the Rector's Regulation Number 14 of 2020 on Curriculum Framework, UGM has mandated study programs to provide space up to 30% of the total credit weight for learning outcomes obtained outside the study program," she explained in her remarks.
Ova explained that data in 2023 showed that 90 undergraduate programs and applied bachelor's programs at UGM had relaxed the curriculum by allocating 30% of their curriculum credits to strengthening competencies and adding new competencies outside the campus. UGM also actively encourages and assists students to join Kampus Merdeka programs.
Until 2023, 2,018 UGM students have participated in the Magang dan Studi Independen Bersertifikat (Certified Internship and Independent Study) program, and 431 students participated in the Indonesian International Student Mobility Awards (IISMA) program at numerous leading universities abroad. It is expected that UGM will continue to enhance its support for this policy to increase the participation of UGM students.
UGM also encourages all study programs to accelerate MBKM Mandiri with the university's strategic partners by facilitating study programs to get internal funding assistance and funding from the Ministry of Education, Culture, and Research. As many as 62.8% of UGM students participate in MBKM programs through the MBKM Mandiri offered by study programs.
Ova further said the Merdeka Belajar movement had recorded a new history in this country's education transformation. In addition, the implementation of the MBKM policy has provided many valuable lessons for UGM.
Through this celebration, Ova invited all UGM community members to reflect on the essence of Merdeka Belajar and determine the direction of future development strategies to realize a "liberating" education ecosystem. Thus, Merdeka Belajar can create future innovations that the nation is waiting for.
"This step is in line with Ki Hajar Dewantara's message, which states that the purpose of teaching and education that is useful for life together is to liberate humans as members of society. Happy National Education Day," she concluded.
Author: Ika
Photographer: Firsto