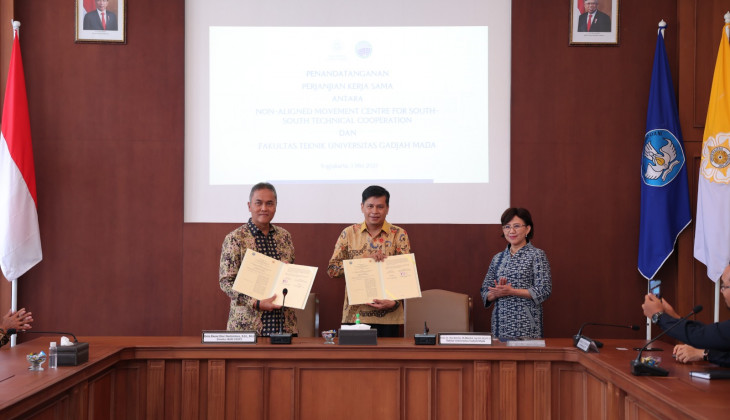 Universitas Gadjah Mada (UGM) collaborates with the Non-Aligned Movement Center for South-South Technical Cooperation (NAM CSSTC) to organize Applied Science for Technology Innovation International: Energy Conference 2023 or Astechnova 2023, which will take place on October 4-5, 2023.
Attending the signing of the cooperation were the Dean of the Faculty of Engineering, Prof. Selo; the Director of NAM CSSTC, Ambassador Diar Nurbiantoro; and the Rector of UGM, Prof. Ova Emilia. Previously in 2018, UGM had also signed a cooperation agreement with NAM CSSTC and the Ministry of Foreign Affairs on scholarships for students from Non-Aligned Movement countries.
"There are about 120 Non-Aligned member countries. Unfortunately, unlike the NAM CSSTC and UGM Faculty of Engineering cooperation, this program is stalled. We also don't know why, but it seems we need to encourage students from African and Pacific countries more," said Diar Nurbiantoro on Wednesday (3/5) in his speech.
Diar admitted that students from Non-Aligned member countries needed more desire to study, and one possible reason was their difficulty leaving their homelands. Last year the program failed because many candidates still needed to meet the requirements. However, Diar is grateful that some participants managed to qualify to continue their postgraduate studies at UGM this year.
"Inshallah, they will start next semester. It isn't easy to get candidates who pass the selection, especially those who meet the requirements of living abroad. Therefore, this year we are more selective by providing an overview of how to live abroad, especially in Indonesia," he explained.
NAM CSSTC hopes more graduate students will study in Indonesia, especially at UGM. NAM CSSTC was initiated by President Soeharto and the King of Brunei in 1995 to increase capacity building for all member countries to improve fulfillment in all fields of life.
"With ITB, we have also conducted training on disaster mitigation. Things like this from year to year are increasingly in demand," he added.
Prof. Ova Emilia welcomed the cooperation with NAM CSSTC for the umpteenth time. She believes that this collaboration will provide many benefits.
"Of course, it is not only in engineering because South-South cooperation also exists in various fields, such as agriculture and health. I have overseen some of them, and these strategic activities contribute to the cooperative relationship between South-South countries," said the Rector.
With this cooperation, said the Rector, many things can be shared and learned from each other. UGM is very open and supportive of this kind of activity.
"We realize this scheme only exists through the Ministry of Foreign Affairs, not LPDP. Because if it is through the LPDP scheme, they always request high-performance universities. So if we want to cooperate with those outside parties, we must fit their criteria," she said.
The Rector emphasized that UGM is always ready to share and cooperate in various fields, per UGM's mission as a populist university.
"We have also contributed a lot through KKN, especially related to, for example, assistance or cooperation. In essence, we are ready to work together to produce work for all nations," she added.
Author: Agung Nugroho
Photographer: Firsto