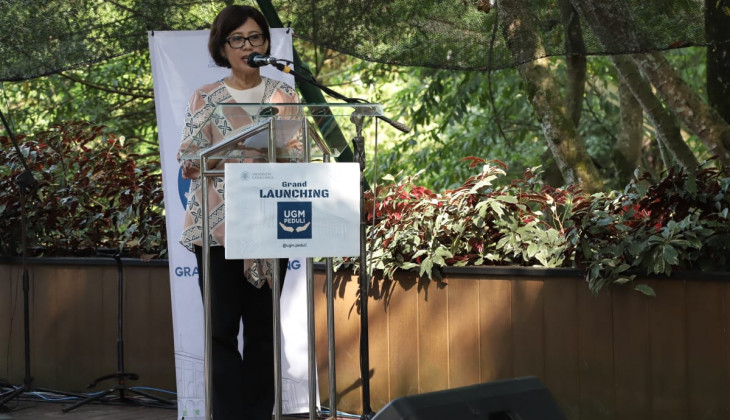 Professor Ova Emilia, Rector of Universitas Gadjah Mada (UGM), launched a student-initiated movement called UGM Peduli at Wisdom Park on Thursday (4/5).
UGM Peduli is a movement driven by the spirit of care and social responsibility of the UGM academic community, which allows students to participate directly in providing assistance and positive contributions to society and the environment.
"We appreciate this UGM Peduli movement. The name contains the keyword care (peduli), and I think this is an adhesive that is second to none," said the rector.
The professor of medical education added that during her one-year leading UGM, she felt as if people walked alone and did not care about others. There are massive efforts to divide both from within and outside.
"I am worried that this will become a character that will eventually appear not only in this institution but also in this nation. Hence, this movement is crucial, and we need to support and guard it," Professor Emilia said.
She emphasized that instilling a caring attitude is a necessity. She hopes the UGM Peduli movement could be a glue for all UGM citizens and between educational institutions and the surrounding environment.
"I hope those who act as UGM ambassadors will be the glue that unites all communities nationwide. Thank you to all those who have initiated, prepared, and participated in UGM Peduli. Hopefully, this activity can positively contribute to the community and UGM's character-building and social development," she added.
The launching of UGM Peduli was marked by reading the Declaration of Universitas Gadjah Mada by two UGM students, Diah Ayu Asmarani and Erlangga Mahendra Yuda. In addition to upholding the values of the alma mater, the students are committed to actively increasing sensitivity and awareness and inviting various parties to care about environmental and social conditions.
As part of the Universitas Gadjah Mada Peduli community, the students will continue to keep the campus environment clean by reducing the use of waste, processing waste, and reusing recycled waste to create a clean and comfortable environment.
Muhammad Fauzan Firdaus, chair of the committee, hopes this movement can be the initial gate to foster a sense of empathy and sympathy among UGM students and society. In addition, this movement can also complement learning on campus through humanitarian activities and foster a sense of tolerance so that it can be a means of character-building for the UGM academic community.
The same expectation was also conveyed by the Vice-Rector for Student Affairs, Community Service, and Alumni, Dr. Arie Sujito. UGM Peduli is expected to be a strength and inspiration for the community and inform the importance of building citizenship.
"We know that students are important resources and subjects for creativity, but on the other hand, there are also vulnerable students, with various factors and causes," he said.
Dr. Sujito hopes UGM Peduli could be realized through UGM's concern and care for ecology or the environment, human values, and learning comfort.
"Let us instill moral responsibility to lecturers, campus managers, students, and employees to make this campus comfortable and humanist and increasingly foster the character of citizenship. We hope that Professor Emilia will invite all campus residents to make this a collective movement that grows in faculties, universities, and the UGM environment," he said.
Author: Agung Nugroho
Photographer: Donnie