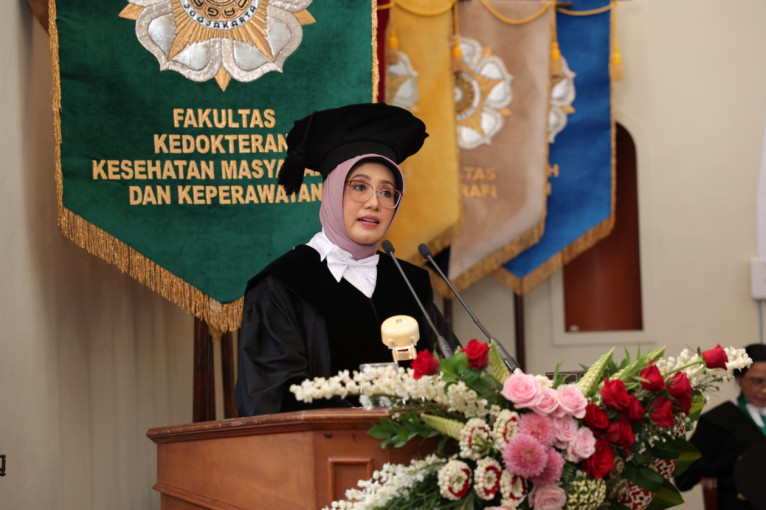 Dr. Hera Nirwati from the Faculty of Medicine, Public Health, and Nursing was inaugurated as Professor of Microbiology at UGM on Thursday (11/5), delivering an inaugural speech discussing the administration of the human neonatal rotavirus vaccine (RV3-BB) in Indonesia.
Diarrhea in children under five is a major health problem, according to Professor Nirwati. It is reported that diarrhea is the cause of 9.1 percent of deaths in children under five worldwide. In Indonesia, diarrhea is the second leading cause of death, and the mortality rate due to diarrhea is reported at 9.8 percent in children under one year old.
Diarrhea had a detrimental impact on child development, she added. Recurrent diarrhea during the growth and development period causes children to potentially experience delayed growth in height, lack of fitness, and suboptimal intelligence.
"Rotavirus is the leading cause of severe diarrhea in children under five in developed and developing countries. Rotavirus is known as a democratic virus because it can infect all children regardless of their socioeconomic status. Almost all children have experienced at least one episode of diarrhea by the age of five," said the professor at the UGM Senate Hall.
Professor Nirwati mentioned that Rotavirus in Indonesia was first reported by Soenarto, who researched by taking stool samples of toddlers with acute gastroenteritis in Yogyakarta. Surveillance of rotavirus in Indonesia has been conducted continuously and shows a high burden of morbidity and mortality due to rotavirus diarrhea.
However, rotavirus diarrhea is a vaccine-preventable disease. Available rotavirus vaccines can replicate in the human gut to elicit an immune response. The four vaccines prequalified by WHO and available in the market are Rotarix, Rotateq, Rotavac, and Rotasiil. Indonesia is developing RV3-BB, which is currently in the clinical trial stage by researchers at UGM.
"Shortly, RV3 is expected to be mass-produced by Biofarma and is targeted for immunization of children in Indonesia," she said.
In the phase 2b clinical trial of the RV3-BB vaccine, said Hera, testing had been carried out to determine the effect of maternal placental antibodies or breast milk on the vaccine's effectiveness.
"After testing, it is known that the RV3-BB rotavirus vaccine can also be given orally with other vaccines such as polio," she explained.
Hera concluded that preventive measures for rotavirus diarrhea by administering vaccines must be done immediately. Rotavirus vaccines in national immunization are a necessity to protect our children.
Author: Gusti Grehenson
Photographer: Firsto