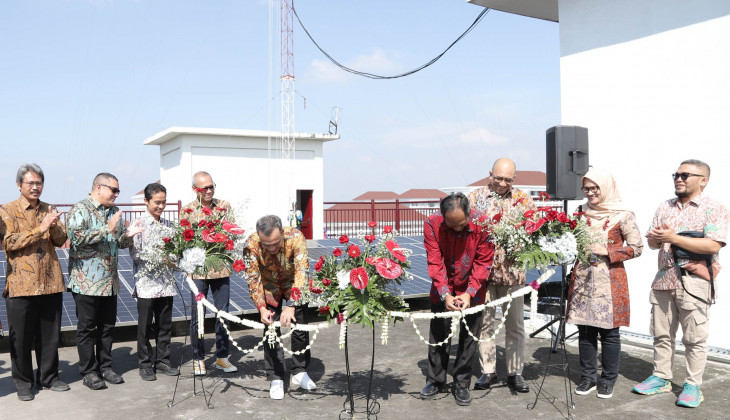 UGM inaugurated a solar power plant for Siti Nurbaya Room in the KMLB Building, Faculty of Geography, on Thursday (11/5).
In collaboration with PT Pertamina New & Renewable Energy (NRE), UGM has installed several solar power plants on campus to help accommodate the great electricity demand, which reaches 25.63 GWh or an average of 2.1 GWh per month.
"This means UGM is also a big emitter because the biggest energy source currently comes from the PLN grid that uses fossil fuels," said Dr. Arief Setiawan Budi Nugroho, vice-rector for planning, assets, and information systems.
Up to now, there have been seven buildings at UGM that use solar panels as a source of electricity. The seven buildings are the KLMB Building of the Faculty of Geography, the BA Building and BC Building of the Faculty of Social and Political Sciences, the IFFLC Building and JBIC Building of the Faculty of Forestry, the R. Soegondo Building of the Faculty of Cultural Sciences, and the A Building of the Faculty of Law, with a total capacity of 326.25-kilowatt peak (kWp).
"Alhamdullilah, as of September 2022, PT Pertamina RNE has assisted UGM with 326 kWp. Although it is still around 1 percent, we can contribute to clean energy on campus," said Dr. Nugroho.
The vice-rector said with the addition of 10 new buildings from the JICA project, the number of buildings at UGM reached 50. Of these, only seven buildings have solar panels installed, so are still 43 buildings left.
"So, if these seven buildings contribute 1 percent, with 43 other buildings, it is six times as much. We hope the cooperation between UGM and Pertamina NRE will be closer and grow, including in the research that we do together so that Indonesia's energy security aspired to in 2060 can happen," he added.
Director of HR & Business Support of Pertamina NRE, Said Reza Pahlevy, added that in supporting the acceleration of energy transition in Indonesia, Pertamina constantly collaborates with various parties, one of which is the academic community of Universitas Gadjah Mada.
The solar station installation at UGM initiated in early 2021 had experienced dynamics in its implementation related to licensing issues, bureaucracy within Pertamina, and others.
"However, alhamdulillah, the plan can be implemented at the end of September 2022," he said.
Pahlevy admitted that it took work to deliver New Renewable Energy projects. Within Pertamina alone, NRE projects include efforts to install solar power plants in cooperatives or gas stations, which number nearly 1,000 gas stations.
Such projects are sometimes constrained by licenses from the ministries or PLN, which impose certain restrictions. Some equipment that has already been installed in several locations cannot operate because the licenses still need to be completed.
"Licensing seems to have many layers, which include the Ministry of Investment/Investment Coordinating Board, the Ministry of Energy and Mineral Resources, PLN, etc. But we never stop campaigning for solar power plants because it is one of the easiest renewable energies. Technologically, it is not too complicated or complex," he explained and added that Pertamina NRE would continue to support the realization of clean energy by conducting training and debriefing on solar power plant operation at UGM.
Author: Agung Nugroho
Photographer: Donnie