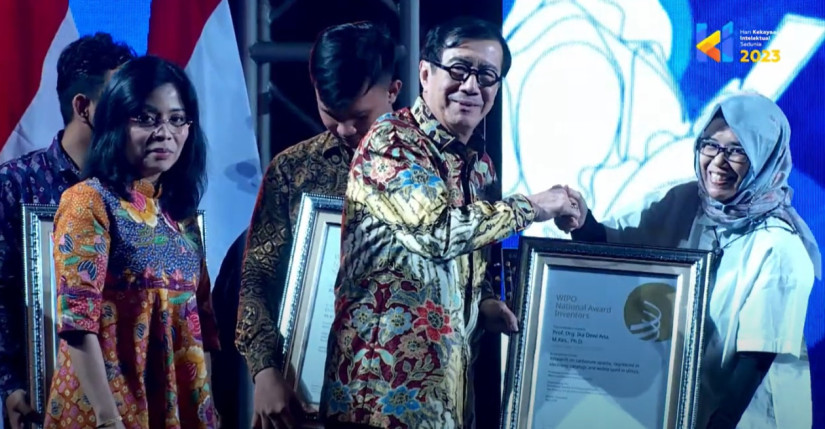 Professor Ika Dewi Ana from the UGM Faculty of Dentistry was given the WIPO National Award for Inventors by Minister of Law and Human Rights Yasonna Laoly on Wednesday (17/5) during the commemoration of World Intellectual Property Day.
The award is a recognition of her apatite carbonate research that has been e-cataloged and widely used in the medical world.
"Alhamdulillah, I was able to get this award thanks to UGM's excellent intellectual property (IP) services, thus rapidly increasing the number of our IP that can be registered and utilized by society," the dental biomedical science lecturer said on Friday (19/5). "UGM and Indonesia have great resources to make Indonesia independent in meeting the needs of medical equipment and medicine."
Ika Dewi Ana is a researcher who focuses on human bone tissue engineering. Since 2007, she has created three research products that have been registered and marketed in Indonesia. The three products are Gama CHA (bone graft), Ceraspon (hemostatic sponge for dentocraniofacial surgery), and Ceraspon General (sponge for general and plastic surgery).
She added that one research product called Ceraffold (biomedical membrane for surgery) is still in the translation stage through the Kedaireka scheme. Another one, CHA Nano-adjuvant for vaccine adjuvant, is still in development.
"All of them have been registered with the Ministry of Health and the electronic catalog," she added.
Many parties have recognized her diligence in conducting research and producing various innovations that contribute to national development. She won the Outstanding Intellectual Property Award from the Ministry of Research, Technology, and Higher Education in 2014, the SRB (Romanian Society for Biomaterials) Excellence Award in 2016, the Excellence Award from ISCM (International Society for Ceramics in Medicine) in 2016, and the Habibie Award in 2022.
According to Minister Yasonna Laoly, the WIPO National Award and Intellectual Property Award are given to Indonesian inventors, innovators, and institutions that have contributed to advancing the national intellectual property system through various achievements and works in the field of intellectual property.
"This award is a form of appreciation to the best Indonesian women who have accomplishments and contributions to the national economy and advancing intellectual property in Indonesia," he explained.
He also invited all elements of the nation to jointly create intellectual property that can protect and mobilize the creative potential of Indonesian women. That way, Indonesian women can become more advanced, independent, and competitive.
In 2023, four recipients in different fields received the WIPO National Award. Ika Dewi Ana received the WIPO National Award for Inventors, Dian Wahyu Utami for Creativity, PT Paragon Technology and Innovation for Enterprise, and Ahmad Raihan Maulana and Wildan Ramadhan for Schoolchildren.
Author: Ika
Photo: youtube.com/@DJKIKemenkumham