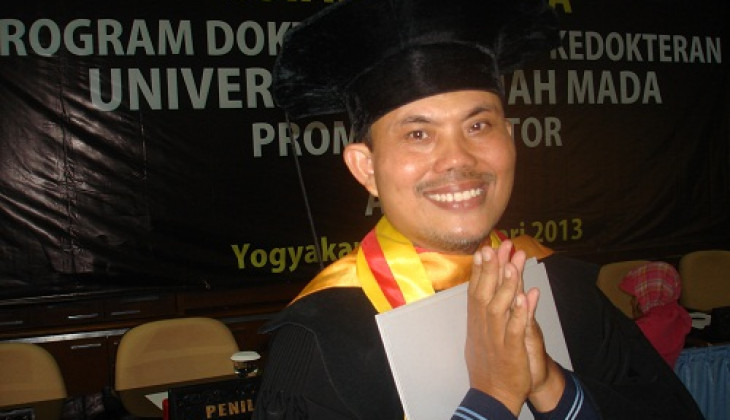 YOGYAKARTA – Black cumin seeds (Nigella sativa Lor) has empirically been used as herbal medicine to remedy various diseases, to be used as, among others, immunomodulator, antivirus, antidiabetes mellitus, anticancer, antiasthma and antiepilepsy. Its content of Timokuinon, nigelon and unsaturated fatty acid is presumed to be antioxidant, chemopreventive and immunomodulator.
Based on recent study, hexane extract of Nigella sativa Lor is potential to be developed as chemopreventive anticarcinogenetic agent through antioxidant cytoprotektive mechanism and immunomodulator. The effect of the hexane extract can increase CD4, CD8 lymphocytes, IFNgamma content and hematoprotector so it is potential as immunomodulator for patients of immunodeficiency, for instance those infected with HIV-AIDS who suffer from decrease of CD4 cells.
"The success of cumin increasing CD4 and CD8 cells which affects the cell population of CD4CD25Treg gives hope to the patients of HIV- who are undergoing antiretroviral therapy," said pharmaceutical lecturer of Universitas Ahmad Dahlan (UAD) Yogyakarta, dr. Akrom, M.kes, in his open doctoral exam in the Faculty of Medicine UGM, Monday (4/2). The promotor is Prof. dr. Marsetywan HNSE, M.Sc., PhD., co-promotor Prof. dr. Sofia Mubarika, M.Med.Sc., Ph.D and Prof. Dr. Mustofa, Apt., M.Kes.
Despite its level of laboratory scale research done on mice, it is known that timokuinon has chemopreventive anticarcinogenetic effect on mice, even reducing death rate down to 81% - 97%, inhibiting hepar and kidney damage and increase the number of leucocyte and hemoglobin. "The extract can also reduce by 45-50% in the incidents of nodul formation and reduce by 70-90% in the formation of adenocarcinoma mamae in mice that is inducted with dimetilbenz(a)antracene," he said.