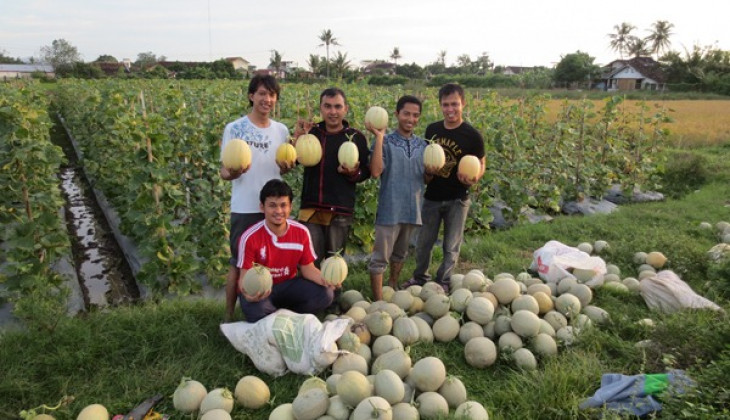 The high population growth has increased demands of agricultural products. Statistics, however, showed that horticulture products are decreasing. One reason is the drastic climate change due to global warming which has killed crops. This could threaten national food security.
Melon (Cucumis melo L.) is a horticulture product from Cucurbitaceae family potential to be developed. This is one of Indonesia's most important product, even ranked fifth in this type.
Genetics laboratory of Faculty of Biology UGM has developed a melon resilient in extreme weather, proven by the harvest in the Agricultural Research and Development Station (KP4) UGM last week.
Head of researchers, Dr. Budi S. Daryono, M.agr.Sc., said the Melodi Gama 3 (MG 3) cultivar was harvested well despite the recent non-conducive weather, i.e. high precipitation.
"It proves that MG 3 cultivar is resilient in extreme weather so able to generate good harvest," said Budi on Tuesday (28/5) at UGM.
The production can yield up to 40 tonnes/ha.
Another researcher, Dr. Rina Sri Kasiamdari, said the melon MG 3 has other positive characteristics, resilient against pests, such as powdery mildew, that often attacks melons. MG 3 is also tolerant to diseases caused by virus, including Kyuri green mottle mozaic virus (KGMMV).
"This condition is good for farmers as it can reduce production costs related to insecticides and fungisides," Rina said.
Still another researcher, Dr. Tri Joko, said the MG 3 cultivar's colour which is orange contains beta carotene, so it is good for the eye. The melon is sweet, aromatic and can be stored longer, so it is economically beneficial.
The research funded by DIKTI through Masterplan of Acceleration and Extension of Indonesian Economic Development (MP3EI) will produce a melon cultivar that is resilient to extreme weather and diseases so it is supportive to government programme in Indonesian economic development in agricultural sector.